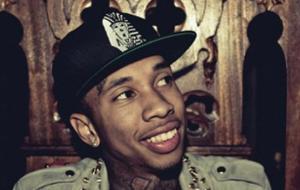 We followed the release of Tyga's Hotel California album earlier this year all the way with singles and videos.
Game featured on Switch Lanes,  a video for the Rick Ross featured "Dope", Hit Em Up which featured Jadakiss and the single Molly with Wiz Khalifa and Mally Mal
Last time out Tyga, Cash Money's West Coast representer, sat down with DJ Skee and Skee TV to discuss mixtapes and the new west.
Today, with a new project on the way, he's  unleashed a new single in conjunction with the man who blessed him with his worldwide smash "Rack City", DJ Mustard. Listen below and support via iTunes.
Tyga & DJ Mustard – Throw It Up (Audio)

[raw]
[/raw]