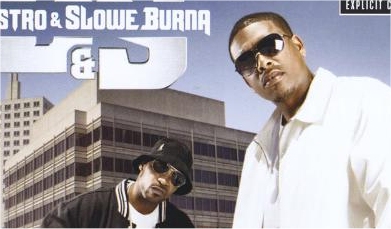 Oakland, CA duo Destro and Slowe Burna, know collectively as D&S.
The duo have been consistently delivering the underground mob music sound that so many west coast music lovers are accustomed to, which is evident on their latest release D&S.
Never ones to jump on the bandwagon of the newest trends or fads, Destro & Slowe Burna have stayed true to their craft and fans, and that loyalty has given them the kid of success that has allowed them to put out 3 solid, independent albums since 2004, including True 2 It (2004) and Rap Music (2006).
Destro & Slowe Burna have worked with many of your favorite west coast artists and producers including Too Short, E-A Ski, B-Legit, Andre Nickatina, Keyshia Cole, Sean T, V-White, San Quinn, and Keak Da Sneak to name a few.
In this exclusive interview for DubCNN, we sat down with Destro & Slowe Burna to discuss their current release D&S, working with multi-platinum producer E-A Ski, collaborating with fellow Oakland native and bay area icon Too Short, what it was like being featured in the Discovery Channel's documentary Gang Wars: Oakland, and so much more!
…………………………………………………………………………………
Interview was done in November 2013.
Questions Asked By: Chad Kiser
…………………………………………………………………………………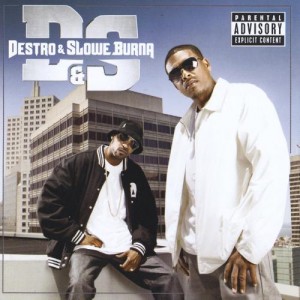 …………………………………………………………………………………
DubCNN.com: First things first, tell us a little about whom Destro and Slow Burna are?
Destro and Slowe Burna are independent, certified hustlas, ghetto rap stars. We make MOB music. We don't make a lot of albums, we make classic albums. That helps separate us from a lot of other independent artists.
DubCNN.com: In 2004, you guys released your first project "True 2 It". How has the Oakland music landscape changed, for better or worse, during the decade you guys have been at it?
First of all, the Internet has completely changed the independent rap game. In 2004, there were still record stores. Now, we have to find different avenues to get your music out to the people. As far as the Oakland rap scene, you had the Hyphy Movement for a while, that was cool. But as far as Oakland and the Bay right now, we're kind of left out of the mainstream because our radio stations don't really push local music like they do in other regions to make their artist famous.
DubCNN.com: 2006 saw the release of "Rap Music", which featured people like San Quinn, B-Legit, Nutt-So and others. Your most recent release, "D&S" also has a bevy of star power added to it with the likes of Too Short, Keak Da Sneak, E-A-Ski and others. What have you absorbed from each of these artists and icons during your interactions with them that you've been able to apply to your careers?
Working with these legendary artists has been one of the highlights of our career. Being around so much game, there's so much to soak up. We grew up listening to a lot of these artists, like Too-Short, and B-Legit. A lot of what we do is based on the blueprint that they designed. Our work ethic and professionalism is what we gained from watching artists like E-A-Ski navigate through the industry and remain relevant.
DubCNN.com: For your latest release, "D&S", you guys connected with veteran producer E-A-Ski. How did you guys connect with E-A-Ski, and can you explain the collaborative process with the multi-platinum producer?
We hooked up with E-A-Ski through a mutual friend. We let him hear some tracks off this project, D&S. From there, he got a feel of how we get down and our style, and came with the track for All of the Above. And that was it! We knew that song fit Destro & Slowe Burna and it damn near wrote itself. Working with E-A-Ski is going to make you bring you're A game. It was a privilege to work with Ski because everybody doesn't get that opportunity because he's very selective. It's not just about the money, he's really is into making good music.

DubCNN.com: What were those studio sessions like with E-A-Ski? Will you guys also feature on his upcoming "5th of Skithoven" album?
Ski showed us so much love; the World Wide track was originally for his album. But like we said, he showed so much love, when we heard the track, we knew we had to have it for the album. And he really gave it us! We did get to hear some of the new shit, but that's G-14 classified.
DubCNN.com: Likewise, you guys linked up with another veteran west coast producer in Sean T. How did that collaboration come about?
Being that we been in the game for a minute, we know a lot of people that know people that know people. We knew we wanted Sean T, so we reached out and got Sean T. That comes from years of being on the grind and being respected for what we do in the game. People respect our hustle and the fact that we stay doing this and get bigger and better every project we drop. Having Sean T produce some tracks brought a whole new energy to the project. He gave us a real gutter, grimy, gangsta feel that we could have fun with.
DubCNN.com: Getting an Oakland icon like Too Short to feature on your project is huge. This guy literally paved the way for so many artists and producers from Oakland and the bay area. Tell us about working with Too Short and getting him involved with "D&S".
Working with someone you grew-up idolizing is a surreal experience. There is no bigger star from the Bay in this rap shit than Too-Short. He's a legendary icon. You can't mention Oakland or the Bay and not mention Too-Short in every part of the nation. Even if you don't like rap music, you know who Too-Short is. When we got him on the album, we reached a new pinnacle in our career.
DubCNN.com: You would think a guy like Too Short, who has worked with everybody from Ant Banks, Ice Cube, Scarface, Snoop, Keith Sweat, and now Lady Gaga, would be hard to reach. How did the collaboration go down?
Like we said before, we been doing this for a long time, we know a lot of people that know a lot of people, and they want to see us succeed and be a part of this movement we got going. When we said we need Too-Short on the album, we make those calls to get him on the album. And Short is a real nigga. Not Hollywood at all. He had heard about us and been seeing us around the Bay as we did our thing and agreed to get down on the track. Then he came through and laced it and the rest is history.
DubCNN.com: Tell me about the Sydewayz documentary you guys were featured in. What is it about and where can we check it out at?
Sydewayz was the very first video documentation of the Sideshows in Oakland. The song, "A Day in the Life", that was featured in the documentary was the very first song Destro & Slowe Burna ever did together for Destro's solo album "Hustla's on the Rise". The music video for "A Day in the Life" was before you can just throw something on YouTube and call it a "video". Sydewayz helped promote our career. It was an award-winning documentary that made us very visible.
DubCNN.com: Speaking of documentaries, you guys were also featured in the Discovery Channel documentary Gang Wars: Oakland. Tell me about that experience and the details surrounding that appearance.
You can find Destro on Gang Wars: Oakland talking shit about the Oakland PD and how they rather give tickets than find out who's shooting. It's funny because this comes back to the Sydewayz documentary helping our career because that is a clip taken from the movie that the Discovery Channel used to make their show more authentic.
DubCNN.com: Having collaborated with many Oakland and bay area artists, who are some of the other artists you'd like to work with that you haven't yet?
There are a lot of artists out there we would like to work with. E-40, Tha Jacka, are names that come to mind right now; E-40 especially because that would add to the list of legendary Bay Area artists that we've worked with. There are so many great artists in the Bay for us to collaborate with; it's hard to name them all. But we plan to have a long career in this game; we hope to work with as many as possible, not just Bay Area. You'll see more of this on our next project.
DubCNN.com: You've worked with artists like Too Short, Keak Da Sneak, V-White, E-A-Ski and others. What's it like working with artists of that caliber, and getting the respect of these veterans?
The experience of working with these artists and having their respect is immeasurable. It helps validate the years of hard work we put into making timeless music and building our brand. Each one of the artist we work with brought they're own unique styles and talents to the forefront, and we can say we learned a little something from every one of them.
DubCNN.com: What can we expect next from Destro & Slow Burna?
Right now we're focused on pushing D&S. You can expect to see us on the grind moving these units. We won't start on the next project till we're done with the promotional tour of D&S and we reach our target goals. But we can say is, our next project will not only have Bay Area legends, but more rap icons and super producers from across the nation. And we're also going to start making feature films.
DubCNN.com: What other projects are you guys involved in, whether together or individually?
We are collaborating with another Bay Area independent artist, Mongoose. We're on the soundtrack for the movie Dark Divas, which was nominated for the Best New Director at the Washington D.C. film festival.
DubCNN.com: What are some of the spots our readers can check your music and videos?
You can go to our Facebook page, Twitter and YouTube.