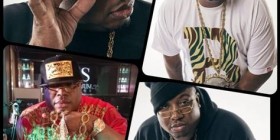 The legend that needs no introduction E-40 has dropped the visual to his new song "Thirsty" from the newly released The Block Brochure 4, 5 & 6 albums.
Accompanying him on the track is King Harris. Be sure to keep an eye out for cameos.
Check out the video and comment your thoughts.
E-40 – Thirsty (Ft. King Harris)