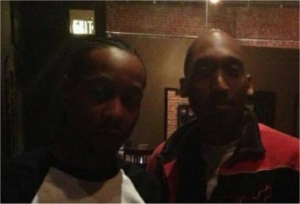 Today we want to introduce you to a name that some of you may know, but many of you will not.
Raj Hills was born and raised in South Central, going on to play basketball (Artiesia) in Southern Cali winning multiple state championships there and in college.
All the while Raj had a passion for music and that stepped to a new level when a friend introduced Raj to BlackTone & DJ Quik. Both took to Raj right away, appreciating his passion and independent grind and have since become his mentors, BlackTone tutoring him on the business side and Quik on music.
Since then Raj has performed with DJ Quik, Suga Free, E-40 and Ice-T, including when Quik asked Raj to play 2Pac at three of his concerts in tribute to Pac. Last year Raj shot a video dedication to DJ Quik while Quik was mixing Rick Ross and Maybach Music upcoming project – in the visual Raj sat in on the session, raps over the classic "Late Nite" with some words of tribute before speaking to Quik on a personal level about his friendship with Tupac. If you missed that video check it below.
Over the last few years Raj Hills has been writing and recording with the hope to release an album in 2014, one track which caught our ear late last year was "Stay Strong" featuring none other than KAM. The track came about after the two met at last years Krush Groove – check the track below and drop a comment!
Raj Hills – Stay Strong (Feat. Kam) (Audio)

[raw]
[/raw]