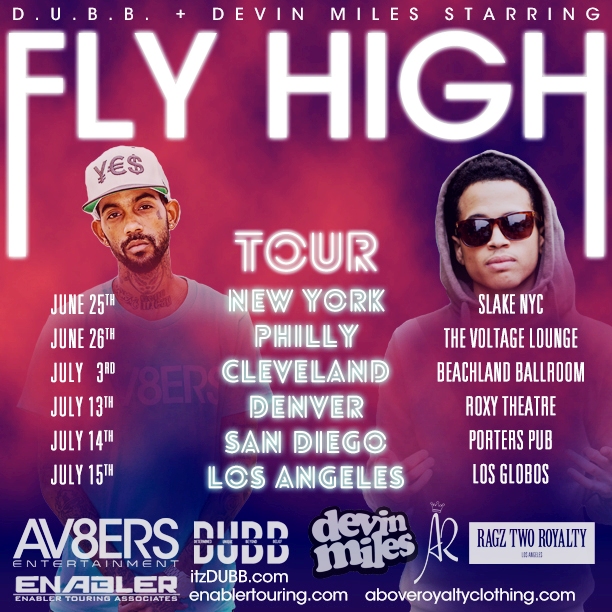 AV8ERS Entertainment has today announced the "Fly High Tour" dates for L.A rapper DUBB.
The 6 date tour will also feature Pittsburgh rapper Devin Miles and kicks off June 25th landing in several cities such as New York City, Los Angeles, Philadelphia, Denver, Cleveland and San Diego.
All tour date tickets can be seen and purchased at EnablerTouring and the full dates can be seen below.
Dubb: Fly High Tour Dates
06/25/14 New York, New York Slake NYC
06/26/14 Philadelphia, Pennsylvania The Voltage Lounge
07/03/14 Cleveland, Ohio The Beachland Ballroom
07/13/14 Denver, Colorado The Roxy Theatre
07/14/14 La Jolla, California Porter's Pub
07/15/14 Los Angeles, California Club Los Globos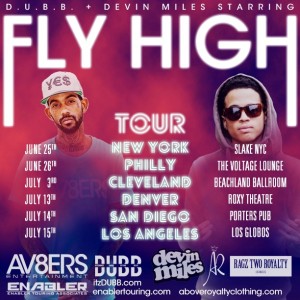 DUBB dropped his highly anticipated "Never Content" mixtape via DubCNN earlier this year – from which we dropped videos for "Save Me," "RNB (Real Nigga Blues)" and footage of his Never Content Concert Live In Los Angeles, CA. Ensure you also check out his past releases Face Of California, The Departure and The Layover as well as videos for Music Is Love, Alpha & Omega, Where Do I Go, Stoned plus records including Hypnotized.
"Never Content" featured production by League of Starz, Remixx, Hidden Faces, and Chinky P, plus guest appearances by Iamsu!, Nipsey Hussle, Skeme, Eric Bellinger, Glasses Malone, and Rayven Justice.