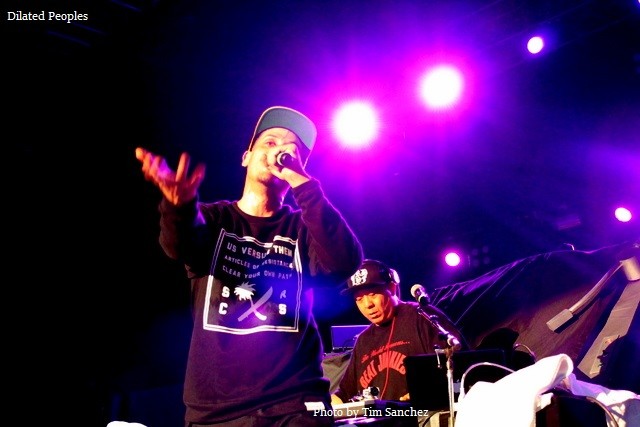 On June 12th at the world famous Greek Theater in Los Angeles, it was a grand homecoming for two West Coast groups that embody the pure spirit of hip-hop.
Dilated Peoples and the Jurassic 5 were in the building for the Word of Mouth world tour, and today we can bring you this report and exclusive pictures.
The early crowd was treated to an opening set by the DJ collective known as The Beat Junkies, whose members include DJ Babu, Mista Choc, D-Styles, Melo-D and DJ Rhettmatic.
The members took individual turns chopping up popular break beats and samples before announcing the night's first act, the freestyle king MC Supernatural. As one of the world's premiere freestyling rappers, MC Supernatural got the crowd hyped with his "3 emcee" freestyle as he imitated Slick Rick, Busta Rhymes and The Notorious BIG in sound and style. Supernat then went on to perform his marquee act where he grabs items given to him by crowd members and includes them in a fantastic freestyle.
The Greek Theater was at full capacity by the end of Supernatural's set and shortly after he finished, the first headlining act then came out; Dilated Peoples. The longtime trio of DJ Babu, Evidence and Rakaa Iriscience, motivated by a new album coming out this August 12th called Directors of Photography, had the crowd in their hands as they gave an outstanding and energetic performance filled with classics like, "You Can't Run, You Can't Hide," "This Way," and "Worse Comes To Worse." The group also debuted two new songs off of their upcoming album called "Directors" and "Good as Gone" which feature the classic Dilated sound that their fans love them for.
After a brief intermission, the Jurassic 5 took the stage and immediately got things going by taking the fans on a journey through the group's 20 year career. The group showed no signs of slowing down as they played off each other in classic Jurassic 5 harmony without any missteps. Jurassic is unique in that they also have two DJ's (Cut Chemist & DJ Nu-Mark) that keep the pace of the show going. The two DJ's also gave the MC's a break by performing their own amazing set which utilized guitar strapped turntables and beat machines, and a giant sized turntable that both DJ's used to scratch. The group then finished off with their classic ode to hip-hop "What's Golden," and sent the crowd home happy with another unforgettable experience.
Huge thanks from DubCNN to Tim Sanchez for the recap and photos!
PHOTOS: Dilated Peoples & Jurassic 5 @ Greek Theater, LA (July 2014)