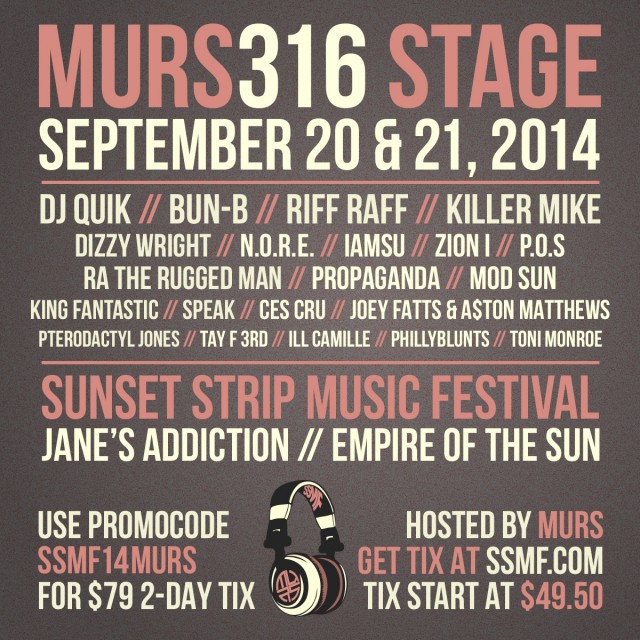 That's right – enter for your chance to win a pair of passes to the Sunset Strip Music Festival and MURS 316 Stage!
MURS will be curating and hand-selecting artists for the first ever dedicated hip-hop stage, as announced on DubCNN.com last month!
While you can now buy exclusive Murs fan priced tickets for $79 for two-day with the code SSMF14MURS at http://bit.ly/SSMFMURS – you can also try and win a pair with DubCNN.com.
Saturday, September 20th Lineup
Bun B
Riff Raff
Dizzy Wright
Zion I
POS
Mod Sun
King Fantastic
Propaganda
Joey Fatts and A$ton Matthews
Tay F 3rd
PHILLYBLUNTS
Toni Monroe
Sunday, September 21st Lineup
DJ Quik
Killer Mike
N.O.R.E.
IAMSU
RA The Rugged Man
SPEAK
CES Cru
Pterodactyl Jones
Ill Camille
To Enter:
Follow @DubCNN @Murs & @SSMF on Twitter and tweet us with the hashtag #DubCNN316 telling us why you want to be there!
Winners will be picked at random after the contest closes on September 16th! Please note the contest is for tickets only – no travel/accommodation or costs incurred.