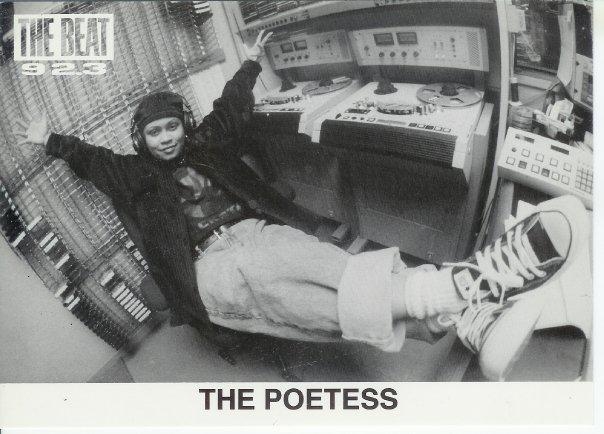 DubCNN caught up with OG Poetess late last year for an exclusive interview!
Her career spans over two decades – from artist, to radio, to activist – we cover the lot, touching on the how's and why's of an incredible 20 years in Hip-Hop.
…………………………………………………………………………………
Interview conducted in October 2014.
Questions Asked By: West Haven Blast
…………………………………………………………………………………
DubCNN: We're checking in with West Coast Pioneer, OG Poetess! What's been up Poetess?
I am currently in the process of building a new media center in the Leimert Park area of Los Angeles. Morris Broadcast Media studios is a place where people can come and stream live shows and produce content. We'll also have workshops for students and small businesses.
DubCNN: No doubt. Now correct me if I'm wrong, but I read that you got your start in radio at the age of 5?
My dad was a DJ at KSOL in the Bay Area and when I use to come up to the station he would have me voice some station promos or talk on the air with him.
DubCNN: What made you pursue a professional career as a musician and do you still write poetry today?
I was a poetess from the age of 8, I think. When I moved to LA after high school, I met this girl named Lisa Love who was a backup singer for the LA Dream Team and she was a dope ass rapper. She read my poetry and we were gonna write together but she died in a tragic car accident the day before. So I was inspired to pursue a rap career in her honor. Do I write poetry today? Not as much as I like to. Sometimes I'm inspired but just haven't really put it to paper.
DubCNN: In 1992, you released the classic hiphop album "SIMPLY POETRY", featuring Jamie Foxx, Def Jef, and Kool G. Rap…which was driven by the hugely successful single entitled "LOVE HURTS." Can you take us back to the time of that release? How have things changed? What was it like working with those legendary featured artists?
Yes, it was 1992 – The early 90's was a great time in hip hop. Although we were all trying to get paid, we had a great respect for the culture. How have things changed? I believe the true hip hop culture still exist its just more underground these days…what we're hearing today is pop hop. What was it like working with those legendary featured artists? It was fun working with those legendary artists. We were all young and just starting out and everyone was pretty much on the same level.
DubCNN: You eventually transcended careers, and began working for 100.3 THE BEAT, in Southern California…breaking legendary new artists to the West Coast, including Erykah Badu and Lauryn Hill. How did this career change come about and have you always had a passion for working in radio?
I was actually doing radio before my rap career. I started in radio in 1989 on Lee Bailey's Hip Hop Countdown & Report and then I dropped my album about 3 years later and joined the staff of 92.3 The Beat in 1993 which later became 100.3 The Beat..I also introduced the music of Suga Free and Next. have I always had a passion for working in radio? I think radio has been my destiny. I didn't originally set out to do radio but the opportunity presented itself and I said "why not?"…
DubCNN: You are also iconic in your role as a community activist. Frequently involved in matters such as gang violence, economics, and health. This is an obvious passion of yours. What inspires this and, I must ask, what are your views on the recent tragedy in FERGUSON and the aftermath that was to follow?
I love my people and I am compassionate for the underserved…and What are my views on the recent tragedy in FERGUSON? As an individual I feel helplessness. I try doing my part by creating opportunities for young people
DubCNN: What was your role at FOXXHOLE Comedy and Entertainment Network, executive produced by JAMIE FOXX, on Sirius XM?
I was a producer and co-host of the Foxxhole. I produced shows for Jamie Foxx, Sheryl Underwood and Earthquake. One of the best jobs ever!
DubCNN: Who are OG POETESS' top 5 "MOST POETIC" MCs of all time?
These are who I consider Most Poetic not necessarily my all time favorites but a few of them are; Nas, Tupac, Lauryn Hill, Lady of Rage and KRS-1.
DubCNN: What is your advice to aspiring artists…with goals of being successful in this game we call hip-hop?
Make good music! Stay on top of the new technology and marketing strategies and build your social media following. Get out there and work, create, collaborate and do shows.
DubCNN: Thanks again OG POETESS, for the interview. Would you like to add anything before we check out? And where can people find you, your music and listen in on the radio to you?
You can google my music and follow me @ogpoetess on Twitter, Facebook and Instagram. Thanks!