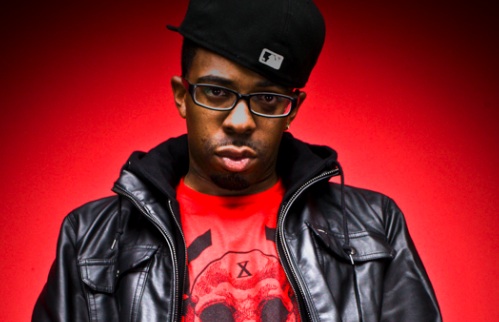 Erk tha Jerk stopped by Microphone Masters Radio again this week.
Last time he had just released his Junkfood & Vegetables project with Fly Commons. If you have listened to MM then you know that J lauded the project as one of the best in 2014. When asked how the project was received by the lyrical elite circles in Hip Hop Erk admitted,
"…it wasn't too well received but that's a gamble that you take when you are creative and you try to be, I guess a concept project. It was basically a concept project. It was definitely worth the effort and it was definitely received (well) by Hip Hop fans though. I definitely want to bridge the gap though but it was great."
Pushing the boundaries or stepping outside of the norm can be the ultimate example of opportunity cost. Letting your artistic side shine can hurt the pocketbook while doing what the masses are doing can result in a full slate of shows. Does Erk struggle with this?
"I definitely do because at a point in time when I was gearing up to drop the project it was different and rap was more Trap and different Southern influences on music. There wasn't a lot of Hip Hop coming out, especially from my area. There's more of a Turn Up culture in the Bay. So what I did was different…so lets say six months later J. Cole drops a Hip Hop and it fits in that vein. So I'm kind of like hit and miss. But I have to keep pushing what I believe in…"
As he preps his next project, Airplane Mode which addresses relationships, distractions and peace of mind through medicinal stimulation Erk reflected on the oft asked question about the state of Hip Hop. In his opinion the music is in a great space mainly because of the independent spirt that artists have as they rely less and less on major labels and find a niche for themselves. Artists have to wear many different hats,
"they kinda have to be their own manager, their own publicist, create a website and push (their) brand so they get a lot of freedom."
There is a yin to every yang and Erk is quick to point out that the industry,
"…can be very fickle. Certain markets might lean towards different genres and different sounds. I do think there is space for everything to breathe but I don't think Hip Hop is necessarily dead but I do think there is a lack of people that appreciate substance…"
Peep out the rest of the conversation in Episode 90 of Microphone Masters Radio Show. And you will want to hear Erk's thoughts on where artists like Kendrick Lamar fit into Hip Hop. Are they worthy of the praise they receive about their Avant Garde status?
Erk Tha Jerk on Episode 90 of Microphone Masters Radio