After years of cultivating his fan base and building his rhymin' resume; Fresno's finest and lyrically acclaimed ambassador Fashawn blesses the masses with his long awaited, and now celebrated album "The Ecology", debuting on NY based label Mass Appeal, the Grizzly City native now truly bares the weight of California's republic. Endorsed by Nas himself, this proven poet has come a long way since his High Learning mixtape series, and his first noted release Boy Meets World produced by Exile, who also played a significant role in creating what is being received as his best body of work yet. With the God son's blessing, this hip hop disciple is set to carry his message worldwide through a boom-baptism of production guided by his ghetto gospel.
Prior to his album release, Fashawn teamed with familiar friend and widely respected beatmaker Alchemist to ease the anticipation with a free mixtape entitled "Fash-ionably Late"; the potent pairing exhibit a chemistry in the lab second to none, embodying the essential elements of rap & true science behind the art of rhyming. Holding his fans over for a mere moment, Fashawn segwayed into his Ecology campaign with his Dom Kennedy assisted record "Golden State of Mind", dedicating a statewide anthem to all of CA and its proud reppin' residents.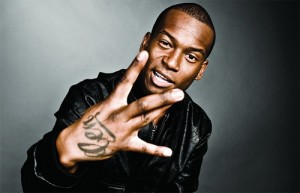 "…some of us had vision, some of us just had sight."
Straight west coast, by way of Fresno and certainly on his grizzy, Fashawn simultaneously stands at the forefront of his city's music scene and hip hop as a whole. The years of hard work and dedication can be heard alongside triumphant saxophones and progressively pulsing piano sounds, laced in joints like "Higher" and "Something To Believe In", which featured big brother Nas and soulful vocalist Aloe Blacc. Well traveled and cultured now, the rhymer's reflective and redeeming raps validate the knowledge and insight he's gained in his maturing process as a father, son and brother with tracks like "Man of the House". One of my personal favorites on the album is "Places To Go", which I related too in terms of my own upbringing and the feeling of desperation that stems from one's lack of direction.
"my adolescences was more like a mountain of lessons I had to climb, a certain truth I had to find…" 
Lost, but only to be found, Fashawn now finds himself leading the way amongst not only his fellow millennials, but now seen as a leader for the younger generations as well. Potent, poetic, positive and promising, this premiere rhymer is a testament to the time it can truly take an artist to reach the heights they were destined for. That aside, the skate boarding spitter now finds himself giving back to the city & fans that have made his career in establishing his very own Grizzly City Music Festival; providing a platform for other aspiring artists in his hometown, and bringing attention to Fresno outside of it's university's athletic program.
Supported equally on both coasts now, "Fash-on" continues to tailor one of a kind material as a reminder that he is indeed cut from a different cloth, and wears his persona with a confidence found in only the truest of MCs. The Ecology embraces & embodies the street environment that fostered Fashawn, from it's darkest corners, to it's brightest days, his hood habitat has made him the man you have come to know. Bless you & your continued work G. We appreciate you.
[Download Fashawn – The Ecology via iTunes | http://apple.co/1LdAD7g]