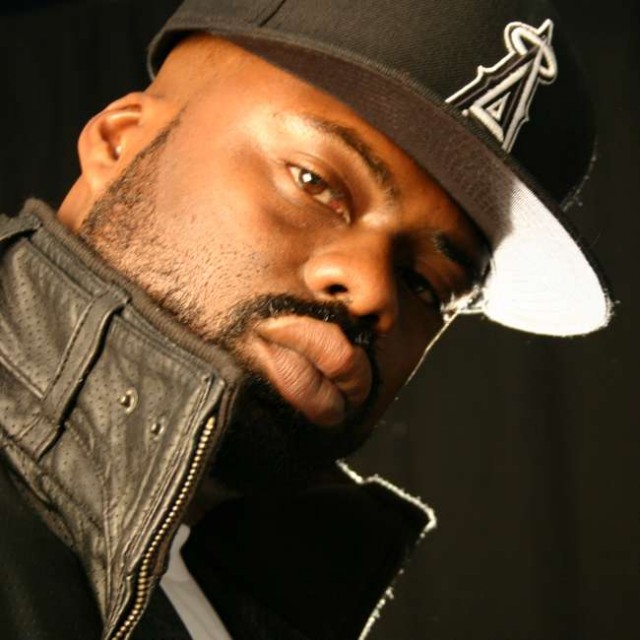 Back in June 2015 we took some time to introduce you to Mike Murray as part of our "On The Come Up" feature series.
As one of the newest voices to arise from the streets of Compton, California Mike Murray's vocal ability and street swag has rappers on high alert in anticipation of his upcoming debut solo offering, 'The Walk On.' Legendary West Coast producer, Battlecat, saw the raw talent and lyrical ability of Mr. Murray and instantly got involved with the project, giving him the golden seal of approval only a seasoned vet in the business of music can give.
"I like his vibe. Mike's lyrics reflect what's going on in neighborhoods across the country. He doesn't focus only on Compton, but he address issues that affect people living in communities just like his. Street life isn't confined to Compton. He hits on subjects that everyone can identify with, and he does it with a cool delivery that's unlike anybody else out right now," Battlecat professes.
Battlecat is known for producing artists such as Snoop Dogg, The Game, Xzibit and Tha Eastsidaz, along with one of today's hottest new artists, Kendrick Lamar. His aesthetic is a progression from the early-'90's G-Funk sound pioneered by Above the Law, characterized by fat synth bass lines and soulful keys. He is also the concert DJ for the aforementioned Snoop.
True Hip Hop heads will gravitate towards the rawness of Mike's vocals and reflect back on the original Compton style made famous by emcees; such as MC Eiht, Ice Cube, MC Ren, Eazy-E and King T, to name a few. When one hears Mike Murray's lyrical content and infectious flow, coupled with Battlecat's signature sound, the winning combination is undeniable — Welcomes to Mike's World…
…………………………………………………………………………………
Interview conducted in July 2015.
Questions Asked By: Todd Davis
…………………………………………………………………………………
Mike Murray – How We Play (Produced by Battlecat) (Audio)

……………………………………………………………………………
DubCNN: Tell us your whole inception into music. When did you first become interested in it? And, how did it actually all begin for Mike Murray?
At birth. My mother would always play music; it became a part of me. The feeling it gave me inspired me even as a kid. I would often ask her, 'What does this song remind you of?' I knew at an early age that music moved emotions and could create situations inside your soul that only you as an artist could understand. Little did I know (that I was) developing the beginning of my music appreciation and my love in my creative process.
DubCNN: Now you are a native of Compton, CA, correct? So growing up in 'Hub City,' who all did/do you consider to be your strongest musical influences?
Correct, born and raised, and still a resident. Musical influences were N.W.A. of course. I remember watching them on Yo! MTV Raps, with Fab 5 Freddy doing the interview, riding down the same streets my mama and grandmother shop; Inspiration.
DubCNN: At what particular point in time did you opt to pursue music on a professional level?
When my music started being received by people I didn't know…because you know your loved ones are sometimes bias, but when others told me me to keep pushing; the mission started.
DubCNN: That being said, how do you classify your overall sound and/or style?
I don't have a style. When I hear the beat, I become the beat's advocate. So whatever the beat tells me to say, that's what I say.
DubCNN: What particular string of events led to your initial linking up with producer Battlecat?
My manager made that connection…with the help from the man above. All the right players were in the right place at the right time.
DubCNN: Your latest mix-tape offering is entitled Eye of the Storm II — Tell me what this title represents both to and for you?
Eye of the Storm 2 simply means…in a world that's chaotic, filled with violence and tragedy; poverty and a lack of compassion for fellow man. That is a storm. But somehow YOU have to find your serenity, and that's in the EYE.
DubCNN: How does Eye of the Storm II either differ and/or compare to that of its predecessor of the same name?
The music is a continuation of the first mix-tape; I just took the flow to a new level. Both mix-tapes are bangin'! I'm just letting people know that Mike Murray is coming with the 'Fire.'
DubCNN: What do you feel you bring to the music industry that we don't already have in other performers?
My passion, my honesty, my stories. If you stay in touch with real events, you will never fizzle…you will be a fixture.
DubCNN: Have you encountered any problems in getting to this point in your career?
Getting started in this business is hard. We don't have as much unity as I would like on the West Coast, so it's hard to receive the support from peers. It seems like everyone is out for themselves, which isn't cool because it used to be a time when we had talent everywhere on the West Coast and we were supporting our artists. Maybe things have changed because the industry changed. I'm not worried about it because my music stands on its own. People will love it and respect it.
DubCNN: What do you want people to get from your music?
Who Mike Murray is. Every time I lay something down, I'm giving a piece of who I am as an artist and a person. I don't sugarcoat life. I give it up the way I see things. I'm not constantly rapping about money and women…I see what's going on in the world, but more importantly in my community, and I let people know how I feel through my music.
DubCNN: When can we, the masses, expect some other music from you? Like maybe perhaps that full length debut solo album…
I'm working on that now. My manager is shopping for the right situation for me, so I can go full throttle and bring an entire project to my fans. I'm ready now! I have music done and I'm constantly writing, so all I'm waiting for is the right place, people, and situation to make it happen.
DubCNN: If you could collaborate with any one artist, living or dead, who would it be and why?
Not sure who that one person would be…I respect the Compton emcees and anyone including; Eazy-E, King Tee, MC Ren, Cube…you know there are so many I respect.
DubCNN: If you could play any venue in the world, which one would you choose and why?
The Forum in Inglewood, because I'm from Los Angeles. I grew up in the Lakers' era and The Forum was always the place to go see the big games or concerts.
DubCNN: On a more serious note, are you happy with the current state of Hip-Hop? And, even more specifically, West Coast rap, or the lack thereof?
Yes, I'm happy with it, because it gives me a chance to be original, and give the people something new. West Coast rap is somewhat trendy, so I feel we come with a different approach.
DubCNN: In terms of longevity, what do you feel it is that will continue to sustain you in this gruelling industry?
It's only one Mike Murray; representing Misfit Entertainment. Every artist has their own flare and appeal…I'm coming with mine! The lack of support at times becomes frustrating, but it has also taught me a valuable lesson. I want people to get a full course meal when you hear my music…substance, as well as body moving tunes. I'm promoting unity and positivity, but at the same time it's no fools on this side.
DubCNN: Do you have any other outside/additional future aspirations, maybe even completely away from music?
Big plans…I want to create a foundation for children and somehow create jobs for people. I want to inspire people to inspire others.
DubCNN: To date, what has been your biggest career moment, at least thus far anyway?
My biggest career moment was making magic with DJ Battlecat. I learned a lot! It was truly a blessing being able to soak up the knowledge. It made me a different artist.
DubCNN: Looking ahead, say five or maybe even ten years from now, where do you see yourself?
10 to 12 years from now, Lord willing, I will have an empire. Able to create opportunities for others to pursue their dreams. Pay it forward.
DubCNN: As for the immediate, what's next for Mike Murray?
Dropping this mix-tape and staying on my grind. I just had a Mixtape Release Party; that was dope! More music on the way, more inspiration and more 'hood tales.
DubCNN: Is there anything I left out or just plain forgot to mention?
Follow me on Instagram and Twitter and MikeMurray300.com is my website.
DubCNN: Any "closing" thought(s) for our readers?
Stay positive…Show Love…and Murder the Booth…Blessings to All.