To say that Hip-Hop films have a checkered history would be a gross understatement. Motion pictures focusing on the culture have ranged from the commendable to the cringeworthy, with few successfully channeling the rawest emotion of the genre's best music. Straight Outta Compton, then, emerges as a miraculous anomaly. A stunningly acted, exhaustively researched biopic examining Compton's first supergroup, the pioneering N.W.A., it succeeds in both humanizing the groups members and contextualizing their fiery message – a rallying cry that is as important today as it was over 25 years ago.
Director F. Gary Gray quickly and adeptly establishes our core characters (the iconic trio of Dr. Dre; Ice Cube, and the late Eazy-E) as unusual talents stifled by the reality of their unforgiving environment. An incredible opening scene sees Eazy enter into a terse negotiation with some particularly merciless drug dealers. As the hostile dealers attempt an ill advised double cross, Eazy displays an early but crucial glimmer of his shrewd, street-bred business acumen. Dr. Dre is introduced as a frustrated bedroom DJ with an astounding musical knowledge but an unfulfilling role in his initial outfit, the World Class Wreckin' Cru. A young Ice Cube's unwarranted confrontations with the LAPD, meanwhile, fuel his "reality rap" and early, aggressive stage performances.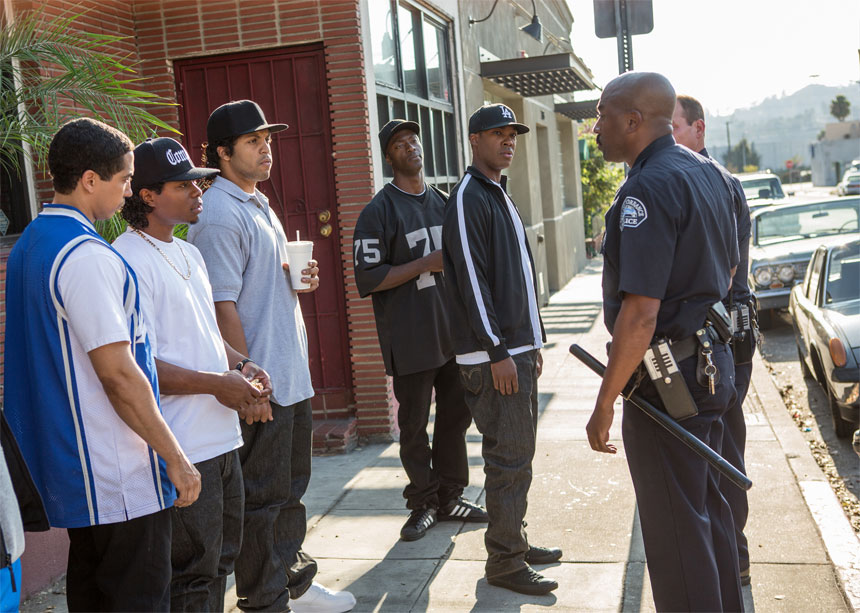 As Eazy grows increasingly weary of his dalliances with imprisonment or death, the aforementioned trio align with MC Ren and DJ Yella with the intention of putting the spurned Compton on the map. A pivotal scene emerges when the group are unjustifiably harassed by law enforcement during early recording sessions for their debut album. As N.W.A are accused of dressing like gang members, forced to the ground without any explanation, and provoked by the cops' racial slurs, the scene becomes increasingly gripping but equally uncomfortable. The parellels between the tension building on screen and the current, charged racial climate of the United States are obvious. Witnessing Ice Cube use this disturbing encounter as motivation to deliver some of N.W.A's most incendiary lyrics ("police think they have the authority to kill a minority") ultimately becomes cause for applause.
It is during the groups turbulent formation, when Gray provides a frank but impassioned explanation for N.W.A's rage, that the movie is at it's most affecting. Compton is compellingly depicted here, a fierce breeding ground that generates freak encounters with psychotic Bloods; dingy, swarmed nightclubs that scare off stiff A&R's; telephone wires drooping above cramped, low-income housing, and a looming, restless police presence. The narrative becomes more familiar when things transition out of the CPT and further afield. As the group tours the nation and racks up increasingly sensational headlines, internal conflicts emerge and the dynamic inevitably unravels. The break-up is an unavoidable but worn trope in many musical accounts, but it's a testament to Gray; the movie's screenwriters, and most notably the cast that they commit to the material with unwavering aplomb. Their performances make key events that even casual fans are well versed in (Dre's dubious alliance with Suge Knight; Eazy's harrowing AIDS diagnosis) startlingly nuanced.
Of the core cast members, Jason Mitchell is a revelation as the incomparable Eric "Eazy-E" Wright. There is one uproarious scene in the movie when the partying group are confronted by an aggressive – and armed – hotel guest seeking his missing girlfriend. Eazy emerges, only to antagonize this guest further by explaining that his girl is otherwise occupied. He of course relays this message in as blunt and perverse a way as possible. As the enraged boyfriend gets ready to charge, Eazy reveals a considerably more powerful firearm and plants its scope squarely on his target. He then chases his foe down the hall while the infra-red beam remains fixated, laughing with a manic, childlike glee. In this moment, Mitchell becomes Eazy. He captures every characteristic that made Eazy such a beloved public figure – the crazed charisma that at once made him as frightening as he was endearing. With his pitched tone and confounding ability to transition from comic to cold-blooded, Eric Wright truly was a "unique voice," as is referenced in the film. Mitchell adapts that voice with a conviction and confidence deserving of an Oscar nomination.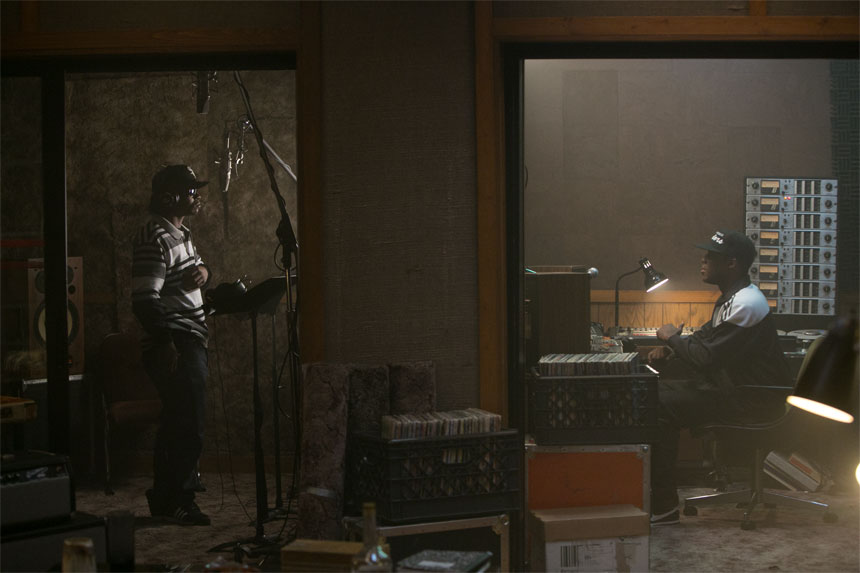 It can be conceded that there are valid criticisms of Straight Outta Compton – slight examples of exercising a revisionist history are peppered throughout, and founding members Ren and Yella are unquestionably downplayed in favor of the movie's producers, Dr. Dre and Ice Cube. Nonetheless, it cannot be overstated how much of a triumph it is to see a major studio present Hip-Hop history to a worldwide audience. Furthermore, Universal have done so without diluting any of the members ire or trivializing the racial profiling that created tracks like "Fuck Tha Police." As a result of a fantastically authentic cast (also including O'Shea Jackson Jr, inspiring as his father, Ice Cube) and the invested direction of someone who experienced the group's social and musical impact, Straight Outta Compton transcends the "Hip-Hop film" niche and withstands as an extraordinary drama based on true events. We have once again witnessed the strength of street knowledge, and it remains utterly essential.
Review by Conan Milne for DubCNN.com