Now I was first introduced to international beat maker Keor Meteor through a mutual friend, and artist/producer WeBeDigi closer to three years ago, and instantly appreciated his ear & taste for prolific boom bad production. He reminded me of established greats like DJ Premier, Alchemist and Madlib; not only because of his skill set, but because his work carried its own signature & audio allure, placing him amongst prestige company while remaining fairly unknown in the states. Having established a connection with the freshest/deadliest Frenchmen since Lyon in The Professional via Soundcloud, I became an avid fan of not only his production, but of his Grand Theft Auto themed tapes, his handpicked collaborations with other seemingly unheard artists, and his overall aesthetic approach to his now familiar, yet foreign sound. Teaming up with the self ordained "Brooklinite-French-Jew" Henry Canyons, now based out of L.A., the two crossed paths resulting in their collaborative effort Canyonland, which dropped earlier this summer in June 2015.
Originally from Brooklyn, New York, the creatively charismatic Canyons found himself drawn to music at an early age, with a background as a jazz saxophonist, to eventually finding his way to Hip-Hop through BK ciphers, he went ahead and fused all his musical influences into the now melodic master of ceremonies he's become. Deciding to leave and attend college in Oregon in 2005, only to return due to peer pressure from long time friend & fellow MC Spliff Hemmingway (Water w/ Duke Westlake), HC returned to further his rap career in Los Angeles before eventually linking up with the overseas orchestrator respectively recognized by underground heads online. Releasing Canyonland earlier this year, the French international extended his ever long catalog with the ten track project, while Henry Canyons's provided what could be considered his best work up to date.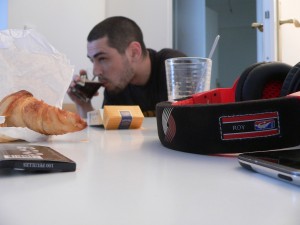 The opening joint "Unconditional" speaks to the love felt for his craft and culture, and highlights his undying willingness to accept the now and act according to that; emphasizing his universal understanding towards others making their own way & living without holding judgment. Placing second, "Music Man" brings a formidable funk for all the cats that use to point their fingers and laugh at the now rightfully respected worldwide rhymer. "Enjoying the ride" as he continues to gain traction, the multi-cultural, culinary skilled in serving food for thought artiste, chefs & arranges a sultry dish over a freshly cooked beat out Keor's kitchen. Showing he holds the right recipe and ingredients to rhyme with, the record leads into what is likely his most notable feature with Open Mike Eagle assisting Canyons on "Post Modern Man", which opens up feeling like a long ranger walking through a wild western ghost town in a Quentin Tarantino film. Being a man of all types of disciplines & jack of all trades, Henry, along with Mike, speak to the new day/new era faced by their generation and those to follow; sharing their intellect and insight to better prep their listeners to the vast changes we've subconsciously succumb to.
Channeling her inner Sade over a heavy saxophone sound, Zoe Rose joins Canyons in delivering charming vibes and smooth cadences in "Dis Moi" (video above), which when translated means "tell me", explaining his search to find meaning in his relationship with a woman doubling as both his destiny and muse. Displaying his bilingual bounce and fluidity in French, he confesses his admiration for her on wax, acknowledging how special she truly is in the way only a musician can, with a song. "Now's The Time" & "Vicious Cycles" showcases the well traveled MC's reflective spirit, sensing the circus the world has become and thus sharing his experiences; awakened and aware asking "what is this all for?", his introspective journey is only a testimony to the trials and tribulations both encountered & endured throughout his life. "C'est La Vie" (It's Life) hits with a sly street vibe tailored by Keor, energized by a vintage crowd involving and rocking hook as Henry harbors nothing but honesty, and sets himself to drown the shallow-minded with some deep shit.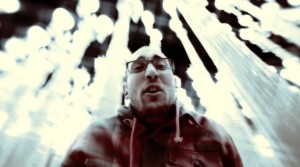 Retracking steps down memory lane on "Wet Concrete", the NY born and bred creative falls into a sentimental mood as he revels in the blues, and relives the old days that have in turn led him to his present ones. With strong roots cracking the concrete, Henry Canyons's pays homage to his home state & town, recognizing where he's from, thus understanding where he's at, and more importantly, where he's going. The projects last two records "I Wanna" and "Jade" underline his struggles in adapting to L.A. culture and living, and in fact a feeling of jadedness towards the city and its doings. Even with all that said, the post modern man believes that each new adventure leads him only to more experience, therefore maintaining a more positive perspective on his path of progression as both an artist & person.
Embodying the essence of boom bap through Keor's blessed production, the title Canyonland reflects Henry's heralded journey in the past five years, fueled by the feeling of walking through an arid desert in search of an oasis, and adjusting to a completely new world out west. When standing at the vista point of a canyon, one has a clear overlay of the land, allowing one to look down at all they've down and accomplished, figuratively speaking. One can take note of how far they've come, how hard they've worked, how much further they can go, and only aspire to widening their horizons even more than before given the view. Enjoyable front to back with prime production setting its foundation, Keor Meteor and Canyons compliment each other well, highlighting one another's creative knack & strengths sound wise, while giving air to an internationally fly piece of work needing no passport to cross country lines. Sharing their French ties, hearing them on record together is like watching Zinedine Zidane & Didier Deschamps on the pitch in the '96 World Cup, and as far as who's who, doesn't matter, each man is considered a legend.