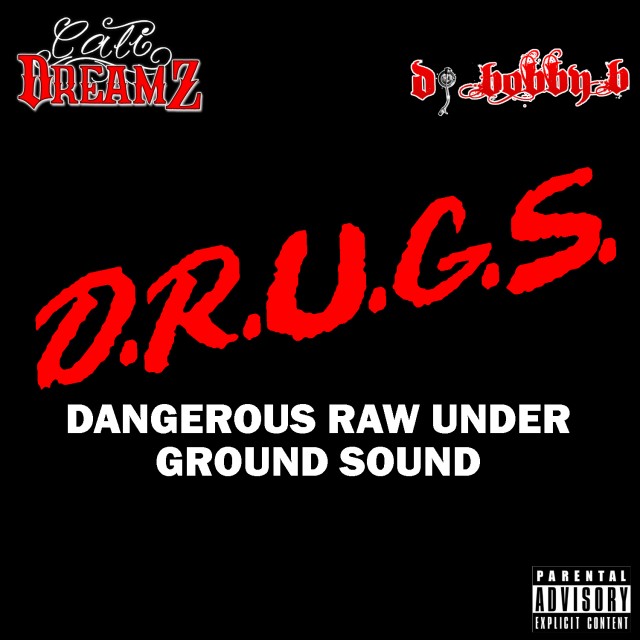 It's been almost 3 years now since we last heard from Cali Dreamz when he dropped his All Eyez On You (2 Pac Tribute) record with Bobby B.
In 2008 he emerged onto the scene with The Execution with Meech Wells & DJ L-Gee. Following up with his self-titled single Cali Dreamz featuring KK of 2nd II None and Nehru from his Cali Dreamz mixtape, hosted by DJ Deftone and including tracks such as Midnight & U with Sly Boogy & Konflict, How Gangstas Live alongside Konflict and the KK of 2nd II None featured In Da Club. He then released Gotta Love It from his compilation project "West Coast 2.0."
Now Cali Dreamz is back with his third mixtape, "DRUGS – Dangerous Raw Under Ground Sound" and is a preview of what will follow on his upcoming album "Yahweh" which he plans to drop in late June 2016. When asked about the new mixtape Cali Dreamz told DubCNN.com;
The concept of this project DRUGS is bringing back that hip hop element that has been missing in today's music for so long. All about the lyrics and substance I am coming with. I am downgrading these fake MC's, trap rappers and bubble gum rappers. Calling them out to step their bars up and their lyrical content.
DJ Bobby B – Suga Free's DJ – once again joins him on this release, alongside production from NY Bangers [Tony Yayo, Jadakiss] and Paul Cabbin [Bishop Lamont]. The mixtapes is a blend of West Coast and East Coast Hip-Hop and interestingly Cali Dreamz opted to keep this a clean release;
[Yeah] I kept this one clean no cursing cause I want to show you don't need to curse to bust hard on a track. This is not meant for radio. This is Dangerous Raw Under Ground Sound. Speaking for the people and creating a movement for real hip hop once again.
Cali Dreamz – DRUGS: Dangerous Raw Under Ground Sound (Mixtape)

Cali Dreamz – DRUGS: Dangerous Raw Under Ground Sound (Tracklist)
01. Intro (Unc IMO) – Production by Paul Cabbin
02. Still Rising – Production by NY Bangers
03. Dangerous feat. Remy The Great – Production by NY Bangers
04. Keep Runnin – Production by Taylor M Beats
05. Bernie Mac On Trap Music (Mike P) feat. Adam Stanton – Production by Adam Stanton
06. DRUGS – Production by Paul Cabbin
07. Do The Work feat. Rocsiano – Production by Paul Cabbin
08. Lost (Medisyne Works)
09. The Good Shepard feat. Medisyne Works – Production by NY Bangers
10. Blown feat. Sunny Bornfree – Production by Paul Cabbin
11. If I Was President feat. Geeba – Production by Paul Cabbin
12. Heat Of The Night feat. Issac Bradley – Production by Ric Thadeus
13. Timeless feat. Casual One The SubsurfaceMC – Production by NY Bangers
14. Blood Sweat N Tears feat. Way Ez, ExpliciTee – Production by Paul Cabbin
15. Family feat. Wee MC, Adam Stanton – Production by OSYM
16. Rehab feat. J Rolen – Production by Pail Cabbin
17. Count My Blessings feat. Issac Bradley – Production by Lexi Banks
18. Hell Fire feat. WeWantAngel – Production by Austin Fig
19. Never Gonna Change feat. Tarrence Lee – Production by Rhapsodist Beats
20. Outro Special Thanks (Cali Dreamz) – Production by Paul Cabbin
All tracks recorded and mixed by Cali Dreamz Productions. Mastered by Juan 2 Swift Productions and Dave Banta