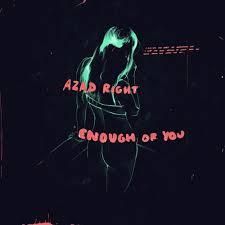 Hip-hop heavy-hitter Azad Right has recently released a brand new track tiled "Enough of You". Azad has been busy of late, partly due to his new position as VP at record label Mind of a Genius (ZHU, Gallant, THEY). Azad has subsequently been featured in the LA Weekly People of 2016.
"Enough of You" sees Azad illustrate a detailed description of the realities of a failed relationship, with surgical wordplay. The intoxicating composition also features Azad Right singing on the hook. This creative wrinkle is a first for Azad; and he delivers flawlessly.
I'm still working on my own music but I'm really taking my time completing the next project.
Connect with Azad Right on Twitter or: azad@mindofagenius.co.uk Check the track and drop a comment. Only on DubCNN.
Azad Right – "Enough of You" (Audio)