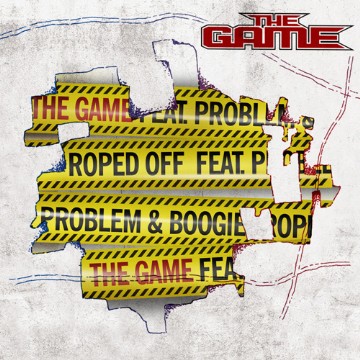 COMPTON RAPPER THE GAME STARS IN A&E NETWORK'S THREE-PART DOCUMENTARY SERIES 'STREETS OF COMPTON', DEBUTING TODAY JUNE 9th.
NEW AUDIO COMPANION PROJECT,
ALSO ENTITLED STREETS OF COMPTON,
TO BE RELEASED ON JUNE 17, 2016
Following the success of his star studded chart topping double albums, The Documentary 2 and 2.5, hip-hop artist The Game hits the small screen once again in A&E Networks' 3-part docuseries about the history of Compton followed by the release of a new 11-track companion project of the same name. 'Streets of Compton' premieres parts one and two on Thursday, June 9 at 9PM & 10PM ET/PT and the third and final hour on Thursday, June 16 at 10PM ET/PT on A&E. The brand new docuseries will feature exclusive new music from The Game's companion project, due out via Blood Money/Fifth Amendment/Entertainment One (eOne) on June 17. It always features the world premiere of the music video 'Roped Off'; performed by The Game and Problem.
The City of Compton has become a pop culture lightning rod from the musical influences of superstar hip hop artists and rappers like NWA, The Game and Kendrick Lamar telling their personal stories of survival in one of the roughest cities in the nation. But few people know the story of how the city went from a predominantly white, conservative suburb of Los Angeles in the 1950s to ground zero for notorious gangs the Pirus, the Crips and Sureños in the 1980s. 'Streets of Compton' chronicles the city's history and illustrates how the iconic music, culture and style that came out of the area in the '80s and early '90s were influenced by the drugs, gangs and political turmoil of the time. Additional exclusive interviews with current and former Compton residents include actress Niecy Nash, comedian Paul Rodriguez and musicians Lil Eazy-E, DJ Yella, Arabian Prince, Anthony Anderson, DJ Speed, Tha Chill, MC Eiht, AD, Payso and Problem. The Game's mother Lynette Baker, father G.A. Taylor and manager Cash Jones as well as Venus and Serena Williams' father Richard Williams and former Black Panther Robert Johnson are also interviewed. Other Compton notables featured in the docuspecial include Mayor Aja Brown, former mayors Omar Bradley and Eric Perrodin; former Compton Councilwoman Patricia Moore, members of the Compton police department gang unit; gang experts and many more.
Moreover, the accompanying 11-track Streets of Compton companion project is a testament to The Game's respect for his hometown of Compton. Authentic, hard-hitting and brutally honest, The Game recruits League of Stars, Bongo among other hip-hop producers and guest features by fellow Compton artists Problem, Boogie, J3, Payso, Micah, AD, Av and more. Check out the first single "Roped Off" where The Game, Problem and Boogie are entrenched in a West Coast G-Funk production by League of Starz.
Listen to 'Roped Off' below.
'Streets of Compton' is produced by Creature Films and eOne for A&E Network. Executive producers for Creature Films are Mark Ford, who also serves as director, and Kevin Lopez. Executive producers for eOne are Tara Long and John Morayniss. The Game, Cash "Wack 100" Jones and Alan Grunblatt also serve as executive producers. Executive producers for A&E Network are Elaine Frontain Bryant, Shelly Tatro and Brad Abramson.