As the former protégé of the legendary producer Dr. Dre, Bishop Lamont has seen immeasurable heights of rap success. After handing him his "Who Do I Have To Kill To Get A Record Deal?" Vol. 1 Mixtape, Bishop was hand picked by the good doctor back in 2005. Bishop was immediately put to work, pushing his pen and creating studio magic side-by-side with Dre. The time spent turned him into every bit the sonic perfectionist his mentor is said to be and Bishop was right at home working on a wide range of projects from Warren G's album "In The Mid-Nite Hour" to video game and movie soundtracks and even network television. So it was no surprise when his own song, the melodic ode to life "Grow Up" began charting and rising at an enormous rate. Bishop seemed ready to take the world by storm while taking his place as the next west side great.
Label politics would eventually see Bishop calling for his release and going out on his own. The battle since has been nothing but an uphill climb. Allies turned their backs, former friends became snakes and suddenly the industry decided to show its true face. Thankfully for Bishop, his fans did the same thing, supporting and riding with him through false starts, fake opportunities and shady businessmen. Bishop kept the faith by touring, releasing countless smashes year after year and never selling out, sucking up, or riding coattails to get back in the game.
He would see his faith rewarded in loyalty by the team that surrounded him and stood by his side in the trenches since day one. The good people at Oniracom, also recognized the talent Bishop brought to the table and realized that the kind of grassroots fanbase support behind him doesn't just grow on trees. They began a campaign aimed at finally being this all-star caliber album to the public. Now after years of weathering the storm, shaking the snakes and reconciling with his former mentor Dr. Dre, Bishop is finally ready to release his long awaited debut The Reformation. With his first singles "Un-American" (featuring Ryu & Apathy) and "Go Time" (featuring Mopreme Shakur, Sick Jacken, B-Real and The D.O.C) hitting the World Wide Web like a hurricane, Bishop Lamont is about to prove that nice guys do finish last…and the last laugh is always the longest one.
"It's not a unicorn, it's not a chupacabra, it's not big foot, IT'S FOR REAL!!! Rejoice real HIP HOP is back! So all my true HIP HOP heads and die hard fans, GO GET THAT SHIT!!! SALUTE! A huge THANK YOU to our friends over at PledgeMusic for launching this campaign with us!"
– BISHOP LAMONT
The album is available for digital download on August 19th for fans who pre-order through PledgeMusic, and August 26th for the general public. Along with a beautiful vinyl edition, we've created beautiful merchandise and special experiences for the fans.
"Back Up Off Me" Music Video
The first Music Video from "The Reformation" is "Back Up Off Me" featuring Xzibit.
"The West coast connection dissipates between Bishop Lamont and Xzibit as they fire destructive shots at each other in their new video for "Back Up Off Me." The former Aftermath spitter and the Napalm rapper bring their intense battle to the ring with a defensive cypher to prove who has the hardest rhymes" – Vibe
Bishop Lamont ft. Xzibit – "Back Up Off Me" Music Video
"Un-American" Single
With Bishops' second Reformation single release "UN-AMERICAN," he addresses the political election system in our country.
"I made 'Un-American' because I feel like this whole election thing is rigged," he explained. "Politics are bulls**t, and the labels of Republican, Democrat, independent, etc, only help to divide us more from each other. We are all humans, facing mortality, cancer, diabetes, and everyday challenges just to exist, on a planet that continues to grow sicker and sicker from the abuse we are inflicting upon it. No one person we elect can change our lives, or our world. We all have to take responsibility, and do our part to change the world."
– BISHOP LAMONT
Bishop Lamont ft. Ryu & Apathy of Demigodz – "UN-AMERICAN" (prod. by Paul Cabbin)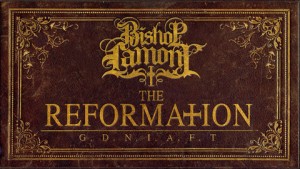 Socials: @bishoplamont1 – https://instagram.com/bishoplamont1
Like Bishop On Facebook – https://facebook.com/bishoplamont
Follow Bishop on Twitter: @bishoplamont – https://twitter.com/bishoplamont