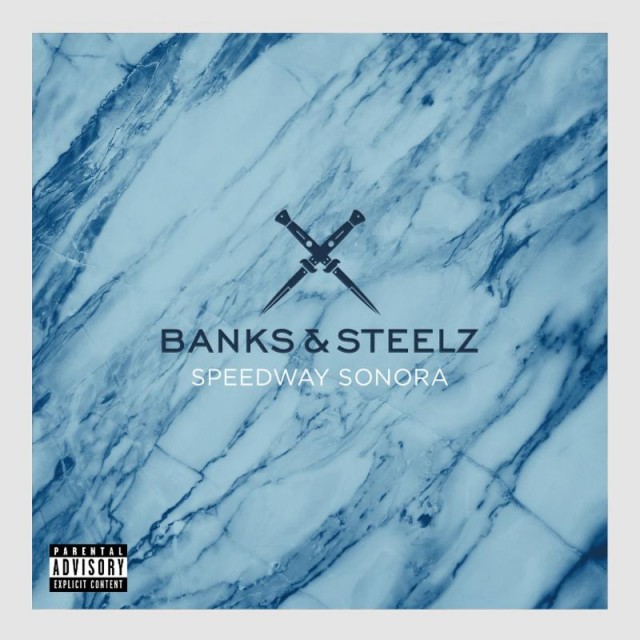 BANKS & STEELZ RELEASE PERFECT SOUNDTRACK FOR A LONELY RIDE, "SPEEDWAY SONORA"
ANYTHING BUT WORDS
 ALBUM ARRIVES 8/28
Banks & Steelz -a musical collaboration between Wu Tang Clan's RZA and Interpol's Paul Banks – have released "Speedway Sonora," the third song from their forthcoming album Anything But Words.
Premiered by 
Stereogum
 yesterday, the new track "doesn't deviate from the duo's now signature approach, pairing RZA at his most livid against Banks' vivid wail. ['Speedway Sonora'] sounds the most like latter-day Interpol, moody with a magical after-taste, balancing scratchy percussion with swerving licks. RZA matches the atmosphere with an opening verse that is somehow simultaneously threatening and as colorful as a children's book."
RZA previously explained to 
Pitchfork
 that the song is the perfect soundtrack for a lonely ride down the Pacific Coast Highway in California. "Try to get a no-traffic hour," he said. "Take it all the way to Malibu, and just keep that song on repeat, and you will really appreciate your day."
He also confirms that the lyrics and energy were influenced by Zack de la Rocha and Rage Against the Machine.
"I will say that's the only song to me that reminds me of early Rage Against the Machine, and when I toured with Rage, Method Man introduced me to their music, and I fell in love with their whole style," he reveals. "And I think that that's the only song on this record that you could potentially say has any kind of rock/rap influence, and that's because at that time when I was doing my lyrics, I kind of invoked the idea of my boy Zack."

Anything But Words will be released on August 28

th

and features appearances by Florence Welch of Florence + The Machine, Kool Keith, and Wu Tan Clan's Ghostface Killah, Method Man, and Masta Killa.
The two began working on music together in 2013.  RZA told Rolling Stone at the time that the idea to collaborate with the Interpol front-man sparked after RZA's manager asked him who he wanted to do an album with.  "When I met Paul, I recognized the New York energy he has as a music artist," RZA says.  "We got to know each other playing chess and vibing out in the studio.  Our talents connected in a unique way and we started writing songs.  The outcome was something distinctively different from my previous work, yet with another layer of cool."
Kicking off their first show as Banks & Steelz in Los Angeles next week, the pair will hit the road at the end of August for a series of tour and festival dates through October, including a recently announced slot at this year's 

Made In America

 festival.

Anything But Words tracklisting:
Giant

Ana Electronic

Sword In The Stone (Feat. Kool Keith)

Speedway Sonora

Wild Season (Feat. Florence Welch)

Anything but Words

Conceal

Love and War (Feat. Ghostface Killah)

Can't Hardly Feel

One by One

Gonna Make It

Point of View (Feat. Method Man and Masta Killa)
Tour dates:
Thu 7/21

            

            

West Hollywood, CA

     

The Roxy
Wed 8/24

          

            

Seattle, WA

                   

The Crocodile
Thu 8/25

            

            

Portland, OR

                 

Doug Fir Lounge
Sat 8/27

            

            

San Francisco, CA

        

The Independent
Sun 8/28

           

            

Los Angeles, CA

           

FYF Festival
Wed 8/31

          

            

Washington DC 

            

9:30 Club
Thu 9/1

             

            

New York, NY

               

Bowery Ballroom
Sat 9/3

              

            

Cambridge, MA

            

The Sinclair
Sun 9/4

             

            

Philadelphia, PA

            

Made In America Festival
Tue 9/6

             

            

Toronto, Ontario

            

The Mod Club Theatre
Thu 9/8

             

            

Chicago, IL

                   

Lincoln Hall
Fri 9/23 – Sun 9/25

        

Las Vegas, NV

  

            

Life Is Beautiful
Tue 9/27

                        

Boulder, CO

                  

Fox Theatre
Fri 9/30

                         

Austin, TX

                     

Austin City Limits
Fri 10/7

                         

Austin, TX

                     

Austin City Limits
Sun 10/9

                       

Phoenix, AZ

                  

The Crescent Ballroom