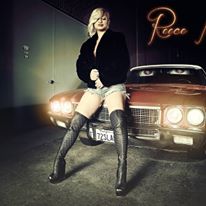 When you think of female MC's from the west coast, you're hard-pressed to come up with too many names aside from Yo-Yo, The Lady of Rage, and The Conscious Daughters. Not to say the west coast doesn't have talented women who can rock the microphone, but the west side hasn't been as successful as other regions in shining a spotlight to the ladies side in the same way as Queen Latifah, Salt-N-Pepa, MC Lyte, Da Brat, Eve, Missy Elliott and others.
That's all about to change with Reece Marie. Born in San Francisco, CA, but moved to Oakland in her early teens, Reece Marie is a on a mission to push boundaries in Hip-Hop. She's a veteran rapper who captures your attention through thought-provoking lyrics, with a voice and flow that demands your immediate attention.
She is currently working on an EP with veteran artist/producer The Almighty E-A-Ski, who has produced numerous records for and with some of the biggest names in hip-hop like Ice Cube, Dr. Dre, MC Ren, Master P, Too Short, Spice-1, E-40 and others. With a co-sign of that caliber, she is headed for greatness.
In this Dubcnn exclusive interview, Reece Marie discusses her influences, working with E-A-Ski, and what we can expect as a follow-up to tracks like "On To The Next", "Live From The Block", and "Feeling Some Type of Way". Reece Marie is live, from the block!
………………………………………………………………………………
Interview was done in October 2016
Questions Asked By: Chad Kiser
………………………………………………………………………………
DubCNN: Being from the west coast, who are some of your influences and inspirations that made you want to start doing hip-hop?
Well, being from the west coast, of course Too Short, N.W.A., Dr. Dre, Snoop Dogg and the Dogg pound and whole lot of other cats from the west, was a huge influence on me. Especially Too Short. He was from Oakland and I used to think that he made it more possible for me to make it too.
DubCNN: What is it about you that separates Reece Marie from other female emcees?
I think just me being me separate's me from other female rappers and male rappers. Just me being comfortable in my own lane. But I also think that for the most part, most female rappers are in the same boat when it comes to the rap game. It's a male dominated and there are way more obstacles and hurdles to surpass for us to even be taken seriously.
DubCNN: Who are your Top 5 female emcees of all time and why?
5 – Salt N Pepa, because they were pioneers. 4 – Queen Latifa, because she represented the strong black woman. 3 – MC Lyte, because her voice was original and she used to spit like a dude, with no apologies. She was dope. 2 – Missy Elliot, because she created her own lane and dominated it. 1 – Lil Kim, because she did what the fuck she wanted to do. Her flow was dope. Her lyrics were dope. She was just plain dope! Until this day, really there is no female rapper that we can compare to any of these women to on my list. No one!
DubCNN: Tell us how you initially connected with E-A-Ski and IMGMI
I reached out to E-A-Ski at a desperate moment in my career. I was on the edge of quitting rap forever. And when I reached out, all I really wanted was some advice. I ended up not only getting some advice but also buying a track from him and recording a song called "Glamorous Life".
DubCNN: You've worked with E-A-Ski on a couple of hot joints like "On To The Next", "Live From The Block", and "Feeling Some Type of Way". What has been like for you to work with somebody like E-A-Ski? What's the creative process like in the studio between you two?
Working with Ski, is like being coached by Phil Jackson. Phil Jackson taught his players to be mindful. He taught them how to think outside of the "basketball" box. And that is what Ski does with me. He teaches me how to think outside of being a "rapper" box. It's more to it than just rhyming and saying whatever on a track. He's teaching me how to be a well-rounded artist. Yeah I can rap, but can I make good songs? Can I brand myself? Am I dedicated? Have I paid my dues? Do I respect the craft and trying to take to another level? All of those things he makes me think about.
The creative process for Ski and I is effortless. We get along so well, it's like I know what he is about to say before he says it and vice versa. He knows what tracks I'm going to choose and I know I better slay every one. Sometimes we vibe and come up with concepts right on the spot. That's what we did for "On Ten".
DubCNN: You're upcoming record "On Ten", can you tell us what that's about and what we can expect?
"On Ten" is a song that we did pretty much on the spot. We heard the track and Ski came up with the hook, and it was on from there. I just wanted to spit a few bars to let people know a little bit about me. "I was born in the City, but Oakland made me gritty".
DubCNN: Aside from E-A-Ski and B-Legit, do you have any other collaborations on the way?
Ski and I are working on another track together right now. It's definitely going to be fire! But, at this time, I don't have any other collaboration's that I'm working on. Right now, I'm working on an EP. Hopefully, it will drop before the winter. I don't have a specific time for it to release as of yet.
DubCNN: What can west coast fans expect with the upcoming album? Will it be project solely produced by E-A-Ski, or will you be working with other producers?
I'm just building on my latest hit single "To the Next". Everything that I have been working on so far will play off of that song. It's definitely going to have that west coast / bay area feel. I'm not going to be all over the place on this project. We've already set a tone on this project and we are sticking with that. Currently, I'm not working with any other producers besides E-A-Ski. We have something special going on right now.
DubCNN: How would you describe your style?
My style is pretty straightforward with no chaser and it's definitely influenced by the bay area. I'm not a battle rapper, but I do have bars. I don't like to try to talk over people's heads. I want them to understand what I'm talking about from the jump.
DubCNN: What are some of the significant moments in your life that have helped shape and define you as a person and as an artist?
The most significant moment in my life is when my son was born. I never knew that I could love someone like that. Motherhood is a very selfless job. And I love it. As an artist, the most significant moment was when I picked up the phone to call E-A-Ski. I was pretty much throwing up a Hail Mary, because I was on the verge of giving up rapping. His generosity and belief in me, helped me remember who I was as an artist. It's been green light ever since.
DubCNN: What are some things that you are working on that we can look forward to in the future?
Currently, I'm just working on my music. Hopefully I'll be doing some significant shows in the near future. We are working on that as we speak. I'm just working on my craft and making sure that every song I do is great. I want people to play my album from beginning to the end without skipping. No fillers! Quality music is my number one goal.