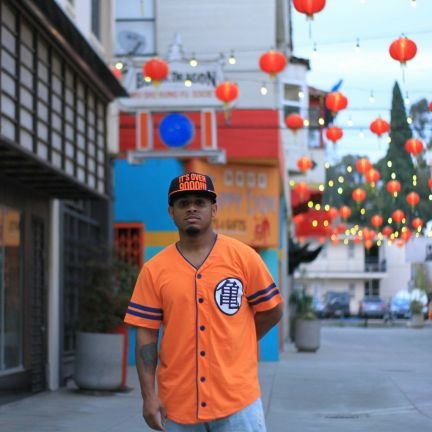 Recently, DubCNN sat down with son of legendary 'Godfather of Gangsta Rap' Eazy-E, Yung Eazy, for an exclusive interview. Yung Eazy has been putting in major work as of late, and is primed for big things in 2017. Bearing a striking resemblance to his iconic father, Yung Eazy wields an aura of focused energy; confident, with crafty wordplay. He is currently working on a new project, and has a dope new video, featuring Loesta, which can be viewed below. Topics discussed in the interview include Eazy-E's influence on Yung Eazy, his favorite rap artists, his new song and video featuring Loesta, and much much more! Check the interview below. Follow Yung Eazy on Twitter. Only on DubCNN.
---
Interview Conducted by West Haven Blast (2017)
---
DubCNN: DubCNN checking in with West Coast hip-hop emcee on the rise, and son of the founder of Gangsta Rap, Yung Eazy. What's good fam?
Yung Eazy: What's good with you man. I'm doing good as long as I'm still breathing, able to live my life, be with my loved ones, and continue doing what I love…then I'm all good.
DubCNN: Ok. First of all…as one of the sons of the Legendary Eazy-E, within the music budiness, what is your personal opinion on your fathers lagacy?
Yung Eazy: I feel that my father's impact is one that continues to grow; I can't even say I know its limit…just seeing the influence he had on millions around the world. It's not even about age group or race because I've seen people that weren't even born when Eazy-E or NWA were around & people in remote small countries around the world who are fans of his. He was an iconic visionary who literally created something from nothing, and it all started with a dream which he acted on & built from that. See, he was a businessman & most people that listen to his music see him as just a gangster. But when you look at the bigger picture, there was so much more.
DubCNN: How did you get your start rapping? And what made you want to pursue music as a career?
Yung Eazy: You know when I was young, like around 15, I started writing music but couldn't really pursue it. I came from a really religious upbringing, and that wasn't the path my mother wanted me to go down. It wasn't until I actually moved out, when I was able chase my dream. When I turned 20 is when I went out, bought my own equipment, and started recording inside of my room. At that time, I was still an unseasoned artist. I was developing & finding myself…what am I most comfortable & still creative with all of that, because I was pretty much doing everything on my own & still am. I guess one of my biggest inspirations with music was that it was just able to help me express myself. Everything I was going through in life I put down on paper.
DubCNN: What separates Yung Eazy as a hip-hop artist, from others?
Yung Eazy: I'm just out here doing me, living my life and telling my story. I'm not trying to paint a false picture as if I'm living a life that I'm not, but keep it completely authentic to the core because aint nothing easy, and if you want it you've got to work hard for it. Funny as it sounds whatever I'm into I rap about it. For an example, I'm a big fan of anime. So I actually just made a song and shot a video completely dedicated to my love for it and those who also do…straight up. Be on the lookout for that one. It's going to be dope!
DubCNN: What was your experience like for you, growing up on the West Coast?
Yung Eazy: I love the West Coast. Growing up in West Covina, California, made me who I am.
DubCNN: Have you yourself implemented any of Eazy-E's style within your own musical creative process?
Yung Eazy: To be honest when it comes to my father the main thing he taught me was to just be yourself, be creative, and to not really care what others think about you because that's when people aren't true to themselves. He was as real as they come & people respect that because they can relate to something that's not made up. On the real though, I'm just doing me, trying to make a name for myself; creating my own lane. I've never been one to try and ride off what my father accomplished.
DubCNN: Who are your Top 5 emcee's of all-time?
Yung Eazy: Asking for a top-five, that's deep because there's so many artists I like that have been in the game for a while…some no longer alive and some current. I'd have to say I like Ab-soul. Soul is a wordsmith & most philosophical member of TDE in my opinion. Listen to his "Control System"; that will open up your mind to things you should already know & dont know &. His "Do What Thou Wilt" album…dudes a modern day Edgar Allan Poe, lyrically. 2nd is Big K.r.i.t. He's a country rapper. If you're a fan of Outkast or Bun B, it's almost impossible to not like K.r.i.t. I can't leave out Lupe Fiasco, Kendrick, Pac & NWA so I just turned this Top 5 into 6.
DubCNN: You also have a single and video out now, titled 'Takin Shots'; featuring West Coast hitter, Loesta. Can you tell the fans about this track and visual?
Yung Eazy: Yeah, last year I linked up with a producer named 'Craze on the Beat', and as soon as I heard the production for "Takin Shots" I already had in mind that I wanted Loesta to feature on it. The song itself was just more street; I'm usually making more 'storytelling' type songs, but this one was more lyrically agressive. People that didn't use to mess with me back then want to be friends now & how I'm different amongst an industry filled with people who copy from one another & if someone has something to say negatively, I'll lyrically murder them. The song started buzzing around on social media, and people were asking if we were going to shoot a video to it which I already had in mind. But for the fact that fans were requesting for it, we made it happen. So make sure y'all go check out the "Takin Shots" video on my youtube channel @iamyungeazy.
DubCNN: What other projects does Yung Eazy have on deck for 2017?
Yung Eazy: Right now I'm working on a mixtape with various producers I'm plugged with, and possibly an EP, produced entirely by my boy 'ChopperChoppper Beats'; not entirely sure yet. Y'all just gotta be on the lookout. I'm shooting a bunch of videos too, so just trying to stay consistent.
DubCNN: Where can fans find you on social media?
Yung Eazy: Everyone can find me on Instagram, twitter, Facebook & youtube @iamyungeazy my website is yung-eazy.com. Pretty much just search my name & I pop up.
DubCNN: Thanks Yung Eazy; from DubCNN. Any last words? The floor is yours.
Yung Eazy: I appreciate DubCNN for this interview. Y'all are fam. And i just want to give a s/o to all my fans that really support me & my music. Y'all are all dope & the reason I keep grinding.