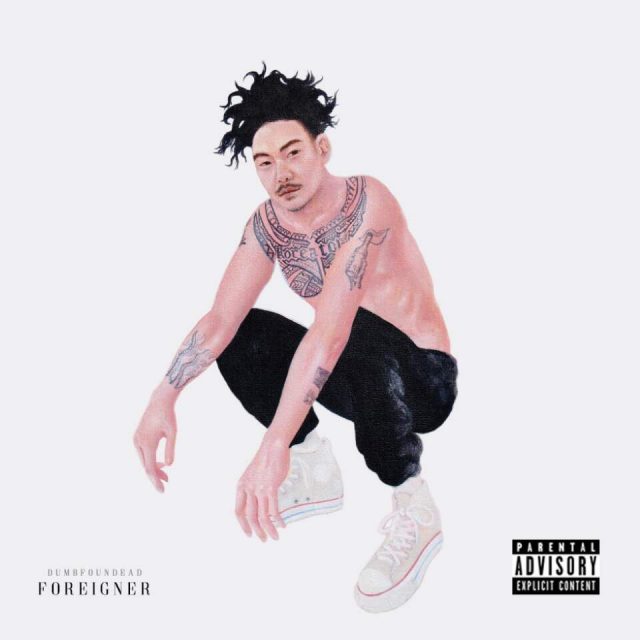 Dumbfoundead's new Foreigner EP has just been released today. With this 5-song project, Dumbfoundead flips the negative connotation associated with the term Foreigner, and explores what it means to belong and feel embraced.
Los Angeles emcee, Dumbfoundead, is excited to announce the official worldwide release of his Foreigner EP available today via his newly formed label BORN CTZN. With  this 5-track project, Dumbfoundead flips the negative connotation associated with the term Foreigner, and explores what it means to belong and feel embraced. For this special first project releasing in Korea, Dumbfoundead collaborates with South Korean hip hop superstars Dok2, Simon Dominic, Tiger JK, Chancellor, Mom, G.Soul, Jessi, Year of the Ox among others.  Full track listing included below.
Dumbfoundead explains, "The Foreigner project is for all the outsiders. As an Asian-American (a.k.a. gyopo) I never knew where I belonged. I had two identities, neither one being fully accepting me. Even when I visited Korea, my home country, I felt like a Foreigner. While I didn't fully understand the language, I was still embraced by those who followed my music. This mini-album is my first project ever distributed in Korea and I wanted to flip the word "Foreigner" (which is usually used in a negative way) into something positive."
Currently in Seoul for the release of his first Korean mini-album, Dumbfoundead will be celebrating with a special live stream on May 23rd at 7:30PM Korea time (6:30AM EST / 3:30AM PST) via HipHopLe's Genie, YouTube, and Facebook.  While in Korea, Dumbfoundead will also be partnering with South Korean beer company Tiger Beer for a campaign and tour with more exciting announcements coming soon.  
He continues, "I have made yearly trips to Korea for almost 10 years now. I've performed with amazing Korean artists like Tiger JK, Dynamic Duo, Epik High and many others. I've always wanted to do a lot more out here but I was too busy pursuing the American dream in the US. However, Korean hip-hop culture has drastically changed these last few years.   Language has become less important as the music itself has become embraced internationally. So, the timing finally feels right for me to put a project out here. With that said, I am excited to announce that Foreigner will be the first of 3 mini-albums to be released this year via my new label BORN CTZN."
Complex partnered with Dumbfoundead to premiere Foreigner's lead single "형(Hyung)" calling it "a banger of a track."  HotNewHipHop praised the "Korean Rap Anthem" and its music video as "visually striking, with many hilarious segments and homages to Korean culture."  The witty and amusing music video questions the traditional Korean notion of respect to a Hyung based on age and instead asserts that being a Hyung is more of a mentality where respect should be shown and earned first.
To commemorate the launch of his brand new collective and label BORN CTZN (pronounced Born Citizen), Dumbfounded will host a not-to-be-missed mini album event in Korea on June 1st at the Octagon.  The event will feature both "Hyungs" (older brothers) and "Dongsengs" (younger brothers). Fans will also enjoy DJ sets by DJ Benjamin and Brllnt (Pute Deluxe) as well as special performances by Loopy & Nafla (Mkitrain), fellow BORN CTZN artists Year of The Ox and many other surprises.  Tickets are available now at https://goo.gl/WljD3a.
Foreigner EP tracklist
1) 형(Hyung) (Feat. Dok2, Simon Dominic, Tiger JK)
2) History of Violence (Feat. Chancellor)
3) Upgrade (2.0) ft. 엄마 (Mom)
5) Send Me To War (Feat. Jessi, Year of the Ox)
DUMBFOUNDEAD SOCIALS:
BORN CTZN SOCIALS: