Annimeanz returns with new mixtape "The Murder Business."
In recent years the South LA artist dropped tracks including "What You In It For" featuring Smoke Major, the Glasses Malone and Omar Cruz featured "Active" and "Like The Westside" featuring Jake&Papa.
Earlier this year he returned alongside Young Hu$tle and Savitho with his new single and video "#NoWarningShots" where they drop bars over Rick Ross' "All Birds" instrumental.
This week he's released a 14 track mixtape titled "The Murder Business" that includes appearances Young Hu$tle, Brooke Taylor, Smoke Majo, Mac Lucci and more. You can stream or download the project below for free!
Annimeanz – The Murder Business (Stream / Download)

Annimeanz – The Murder Business (Tracklist)
All I Know – Feat Young Hu$tle Prod by Dj Official
02) So Clean Feat Brook Taylor – Prod by The Mekanix listen download
03) Dope Head Rental Produced by – Dj Official
04) Fuck You Pay Me Feat- Smoke Major Prod by A-Star
05) Never See You Broke Prod by A- Star
06) Like the Westside Feat Jake Papa Prod by A-Star
07) Annimeanz – Turnt Up – Prod by Jus1
08) Back Out Feat. Smoke Major, Mac Lucci – Prod by A-Star
09) What The Deal Is Feat – Young Hu$tle- Smoke Major
10) Living Dangerously Feat -Young Hu$tle – Annimeanz – Smoke Major – Ooo wee
11) Annimeanz – Aint Fuckin With You Feat Big Sick Nasty – Smoke Major Prod by A-Star
12) Annimeanz – Go Up Feat – Big Sick Nasty BONUS TRACK Prod by A-Star
13) Annimeanz feat Big sick nasty-Fully with the function- Prod by A-Star
14) The Money Feat. Young Hustle, Weble Prod by Rated TG King Dave of Drastic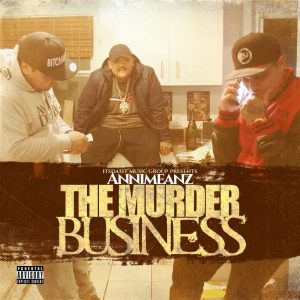 Give it a spin and drop a comment, and ensure you follow him on Twitter.