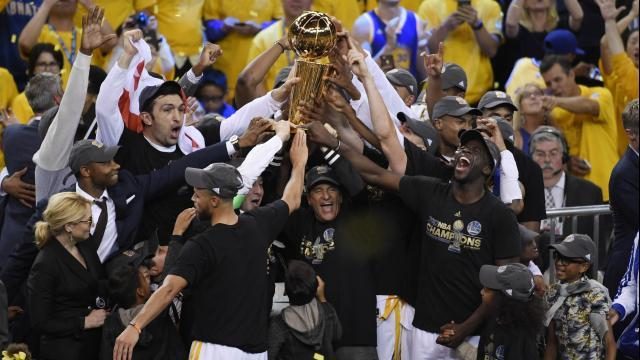 "California Love"
The Golden State Warriors have defeated the Cleveland Cavaliers with a 129-120 Game 5 victory at Oracle Arena. Spurred by 39 points, 7 rebounds, and 5 assists from perennial all-star Kevin Durant (who was acquired by the Golden State Warriors from the Oklahoma City Thunder via free agency), the Golden State Warriors secured their second NBA Championship in three years. The Finals MVP went 14-of-20 from the field in Game 5. After a spectacular performance en route to his first NBA championship, a very emotional Kevin Durant thanked his teammates, coaches, the city of Oakland, the fans, and of course his mother, while receiving the Bill Russell NBA Finals MVP trophy.
2-time NBA MVP, Steph Curry, added 34 points, 10 assists, and 3 steals, with Andre Iguodala proving a major spark off the bench, providing excellent defense to go along with 20 points. NBA All-Star, Klay Thompson, struggled from the field, ending up with only 11 points, but provided stellar defense throughout the series, and all year. The emotional, and intangible leader of the Golden State Warriors, Draymond Green, provided a steady presence contributing 10 points, 12 rebounds, and five assists.
The Cavs were led by LeBron James, who scored 41 points, hauled in 13 boards and distributed 8 assists. Kyrie Irving contributed 26 points and six assists, with J.R. Smith pouring in 25 points on 7-8 from 3-point range. NBA All-Star, Kevin Love, was mostly neutralized by the defense of Draymond Green, and others, ending up with only 6 points and 10 rebounds.
Though putting up a valiant fight, the Cleveland Cavaliers were simply overmatched in the series, and it will be interesting to see what moves the Cleveland Cavaliers, as well as the rest of the NBA, makes this offseason to keep up with the current golden standard of the league.
Congratulations to Steve Kerr, and the 2017 Golden State Warriors!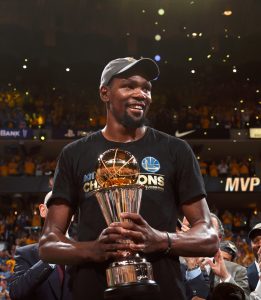 KD & Steph celebrate as NBA Champions!! #NBAFinals #DubNation #ThisIsWhyWePlay pic.twitter.com/83SPAoQWWf

— NBA (@NBA) June 13, 2017
https://twitter.com/SnoopDogg/status/874471012292861955
Proud Mama! #NBAFinals pic.twitter.com/1FvstphlkJ

— NBA (@NBA) June 13, 2017
The champs. #DubNation#ThisIsWhyWePlay pic.twitter.com/u15VHTfzFL

— NBA (@NBA) June 13, 2017