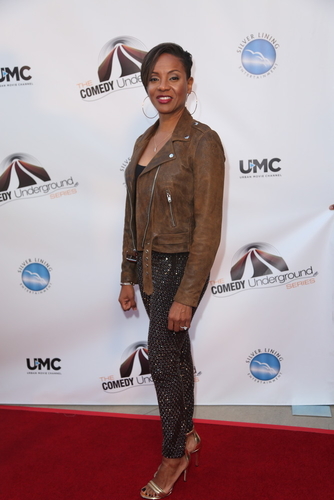 Last night, Red Grant, Guy Torry, Flex Alexander, Shanice, Pretty Ricki, and many more were among the celebrities in attendance at the live taping of The Comedy Underground Series Season 2 produced bySilver Lining Entertainment. The comics took over the Alex Theater in Glendale, CA with a hilarious laugh marathon.
For the latest season, previously featured comic Red Grant returns as the evening's host, while MC Lyte reprises her role as DJ and ringmaster for the event. Boasting a powerhouse roster of hilarious talent, the comedians include Guy Torry, Brooklyn Jones, Rip Micheals, Tony Roberts, Pretty Ricki, Cocoa Brown, Zooman Miller, and Ocean Glapion.
"The Comedy Underground Series " provides a platform for fresh voices in the world of comedy in addition to celebrating established acts via an inventive combination of live performance and documentary footage showcasing their respective stories.
Angela White, SLE President and the Creator and Producer of the series and Producer Carol Ann Shine have officially partnered with RLJ Entertainment to produce and air Comedy Underground Season 2 on the heels of SLE's faith-based film, "A Question of Faith," which is scheduled to be released theatrically on September 29, 2017.
"The Comedy Underground" will air this summer on The Urban Movie Channel as an integral part of UMC's Fall Out Fridays comedy campaign.
Check out the official photos below! Only on DubCNN.