Legendary West Coast emcee '2 Mex' has just released his highly anticipated new album "Lospital"
2Mex of The Visionaries, Project Blowed, and Of Mexican Descent, has just released his new album, "Lospital". The album is presented by Water The Plants and it's his first album since recovering from a near fatal battle with Diabetes that cost him his right leg. It features a song with Slug from Atmosphere and production from Eligh of Living Legends and CookBook of LA Symphony.
Download "2 Mex – Lospital" Here
Available on iTunes, Google Play, Bandcamp, and all other digital outlets.
You can find where to download it at:
You can also order limited edition signed CDs of the album on the site store. Check the first single off of the new 2 Mex project below!
2 Mex – "Lospital" ft. Sophia Pfister (Official Video)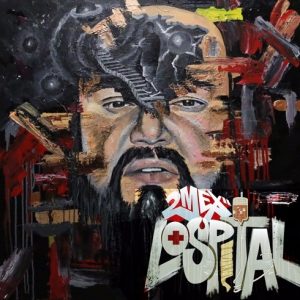 ---
Water The Plants
Los Angeles based company Water The Plants serves as an artist incubator to develop talent and blossom them to the next level.
2Mex, Sully, Omar Goodness and the whole Water The Plants crew is hosting Water The Plants Radio, a radio show on 93.5 KDAY dedicated to curating new talent and uncovering Hip-Hop's hidden gems.The show is an hour block airing on Saturday Nights (Sunday Mornings) from 2am to 3am. Tune in on 93.5 FM, or checkout the recorded podcasts of each show on iTunes under 'Water The Plants Radio' or on the website: watertheplants.org
For recording time at the official 'Water The Plants' studio, contact Leaf at 562-868-8928, or visit the Imperial Square Sudios website: Imperialsquaremusicstudio.com
To submit music for radio play consideration on 'Water The Plants Radio' via 93.5 KDAY, email mp3 track and info to: Radio@watertheplants.org
'Water The Plants'  are Omar Goodness, Jeric, BDR, Snagneto, Miyagi, 2Mex and Leaf. They are currently working with Gia Medley, John Robinson, Red Gold and Green Machine, Count Bass D, M1 of Dead Prez, Elon Kush, Carl Sherron, Ric Scales, Zzay and more! Follow the movement.
Matt "Miyagi" Berger