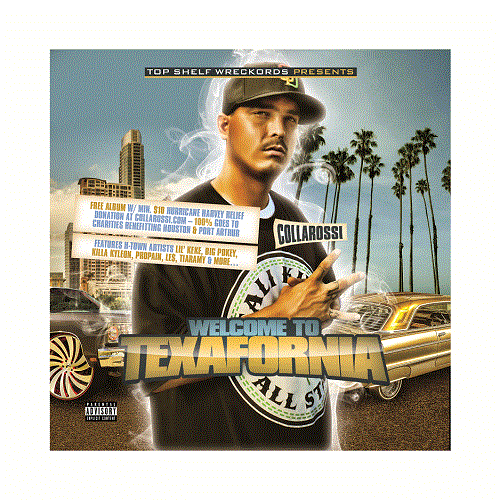 San Diego and Top Shelf Wreckords artist, Johnny Collarossi, is giving back to victims of Hurricane Harvey with his latest and most anticipated album yet. The album is entitled 'Texafornia' along with its leading single featuring Screwed Up Click members Big Pokey and Lil' Keke. Other guests featured on the single are Propain, Big2DaBoy, Da'Unda'Dogg and Tiaramy.
Due to the recent devastating damage left by Hurricane Harvey that demolished through Texas this past summer; Collarossi and Top Shelf Wreckords teamed up with a few charities to donate all online digital download donations of 'Texafornia' to the Hurricane victims in Houston and Port Arthur, Texas.
The 3 charities Collarossi has teamed up with are:
Houston Mayor Turner's Hurricane Relief Fund,
And
Donations will begin Monday, September 18th, 2017 through Collarossi's website and lasting until the end of 2017. The minimum donation amount to download the album is $10 dollars.
'Texafornia' is a full length release, exclusively produced by DJ Young Samm of Break Dem Boyz Off Entertainment. Featuring H-Town artists such as: Lil' Keke, Big Pokey, Killa Kyleon, Propain, Les, Tiaramy & more!