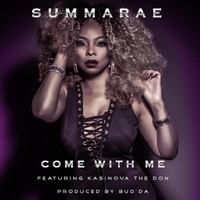 After a long anticipated wait, Summarae's second single, titled "Come With Me", is finally available! The song is a musical vehicle that resonates deep within the soul, while remaining sexy, soulful and edgy. Sonically and lyrically masterful.
Summarae delivers with conviction, authenticity and heart felt passion through both song and story. Her lyrics are drawn from her personal experiences, fantasies and feelings. With her distinct sound and sexy voice, Summarae leaves listeners in a trance, yearning for more
"Come With Me" was written by Summarae and produced by multi-platinum producer Bud'da & featuring Kasinova The Don. Stream and/or download the track below and stay tuned!
Download "Summarae – Come With Me" Here