Today DubCNN sheds light on the rising West Coast hip-hop artist Louie Diamonz, and his record label, Hunnafied Records.
The Watts, Ca. emcee has been making major moves as of late and seems primed for major success. Already having collaborated with major West Coast players such as Jay Rock, TDE, Killa Twan, Mitchy Slick, Kendrick Lamar, Spice – 1, ScHoolboy Q, OFTB, Redrum, Red Mcfly (French Montana producer), Coke Boys, Vee Tha Rula and Young Throw Back, Louie Diamonz and Hunnafied Records now aim to solidify their name with a firm entrenchment in the music industry.
Check out the exclusive interview with Louie Diamonz below! Be sure to watch the new music video, titled "Cake Up", below as well.
Download "Sleepless in California" (Single) by Louie Diamonz Here:
https://itunes.apple.com/us/album/sleepless-in-california-single/1186045153
---
Interview by West Haven Blast (2018)
---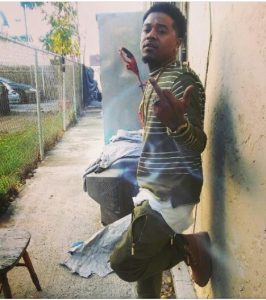 DubCNN: DubCNN checking in with rising hip-hop imprint/label, Hunnafied Records. What's good fam?
Louie Diamonz: What's good champ…happy new year.
DubCNN: Tell us a little about Hunnafied Records fam…
Louie Diamonz: Hunnafied Records is not just a record label, you know, we are more like family…very loyal to one another.
DubCNN: How did you get your start rapping? And what made you want to pursue music as a career?
Louie Diamonz: I started rapping when I was younger, inspired by my OG's like OFTB, Juvenile Committee, and so on. I got serious about rapping when I was 15 while incarcerated. Before then I was just messing around with it, with a few of my relatives like Killa Twan, Wes, and Dirt. My relative Killa had a studio in Long Beach. I got released and dropped my first song "Glocks & Uzies" (feat. Jay Rock from TDE). The way the song came out inspired me to continue on with it and I've been serious ever since then.
DubCNN: What separates you as a hip-hop artist, and label, from others?
Louie Diamonz: My versatility. I write my own music, I'm always challenging myself, and always pushing myself to the limit. I became very humble and learned how to be patient. Dreams don't come true over night. You've got to really want this. There will be times when you're going to want to quit because things are not happening as fast as you planned. Some artists would've quit, like some I know, because it's not happening fast enough. What makes me different is I never quit or give-in. For an artist to quit means he never believed in himself in the first place. Me, I have faith and I believe that one day I'm going to be on top, like I planned to be…alongside my manager, who has never given up on me and always believed in me since day one.
DubCNN: What was your experience like for you, growing up on the West Coast, while frequenting East Coast?
Louie Diamonz: I'm a west coast artist but my experience on the east coast was the shit ..all work no play. I did my first video with VH1 cast Puma and Sassy from Black Ink Crew, did a few songs with the Coke Boys, my nigga CokeBoy Brock, and CokeBoy Droop_pop. I got to work with Red Mcfly, a producer for French Montana, as well. The love and respect for one another was real. S/O to my East Coast family, much Love & Respect.
DubCNN: Cool. You also have a new video that was recently released. Can you tell us about the motivation behind this song/video?
Louie Diamonz: I did this video "Cake Up" a while ago when I was doing this project called DiamondR4ever. It was one of my hottest songs off the project. It was filmed in California and the other half in New Mexico. Kurupt from Tha Dogg Pound came out and showed me some love; told me "Louie this is the one that's gone take off." It's an inspiring song that motivates you to want to go out amd get it; pursue your goal. It may look like a nigga made it, balling, but in reality a nigga still grinding, getting that cake up, feel me.
DubCNN: Who are your Top 5 emcee's of all-time?
Louie Diamonz: My top 5 MC's, other than myself, are 2pac, Snoop Dogg, Biggie Smalls, Juelz Santa, and Lil Wayne. Plus a few more.
DubCNN: What other projects do you have on deck for 2018?
Louie Diamonz: Be on the look out for my new project called "Sleepless In California". I also have a mixtape that I'm back working on, called "DiamondR4ever Vol.2". Get ready, 2018 is mines.
DubCNN: Where can fans find you on social media?
Louie Diamonz: You can check my music out on Livemixtapes.com, Dattpiff, Amazon, iTunes, iHeart Radio, Pandora, etc. Follow me on Instagram @TheReal_Louie_Diamonz also Facebook Lou Diamonz , Twitter @Louie_Diamonz For Booking inquiry's Email me @ Hunnafiedrecords@gmail.com also
DubCNN: Any last words? The floor is yours.
Louie Diamonz: I've been doing this for over 15 yrs now. I'm ready to take this to the next level. I eat and breath this, it's about time my music reaches ears and gets into the right hands. I've been dedicated to this half my life and it's about that time. Hungry, humble and motivated, 2018 is mines. To all you younger MC's coming up in the game, never give up on your dream. God sees your ambition. If you're serious and have faith in him, it shall happen.
It's ya Boy Louie Diamonz.
Hunnafiedrecord@gmail.com