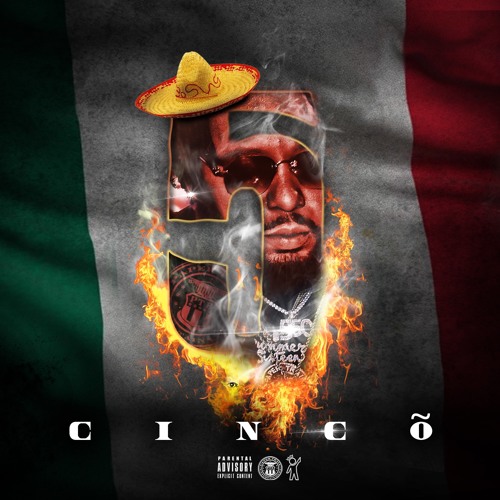 Today, Kirkwood, GA rapper 550 debuts eight hypnotic trap bangers on his new mixtape Cinco. Atlanta producers Will A Fool, Exotic and Slo Meezy deliver head-nodding beats that complement 550's honest tales about the streets.
"The Cinco concept comes from both my name and where we're from, Lil Mexico, aka Kirkwood Atlanta," explains 550." Every track paints a picture of my life and things that I've been through from the music to the streets. It's the story of 550."
Cinco follows the "menacing" 21 Savage featured single "Radar" premiered with
XXL Magazine
and declared a "trap banger" by
HotNewHipHop
and the street-life narrative "Raiders" debuted by southern tastemakers
Dirty Glove Bastard
.
ABOUT 550:
Raised in Atlanta's notorious section of Kirkwood, cousin to Future and Bossman Casino, the street poet has seen it all. There are rappers that you listen to because of their lyrical abilities and then there are the rare breeds that have something special and you can feel their pain through their voices. Street music resonates best when it's honest and genuine. Dishonesty has led the next generation to become lost and 550 wants to fix those mistakes.
Born Darren Buice, 550's debut project, Street Kingz, made waves because of its unique style, real lyrics, and A-list help. Even though he had family in music, he had no ambition to be a rapper.
Before rap, life was very different. 550 was given his name because of being one of the 1st young street dudes to drive a Mercedes S550 in his neighborhood. 550 was also given the highest street ranking of 550 in the infamous street gang Bloods. After surviving a home invasion, which led to 107 bullets shoot-out and a 4-year prison sentence, 550 decided upon release that he will take his knowledge of the streets and tell his story through his music. His focus was to get money so he could take care of his family.
"My best friend was shot in the back of the head right in front of me," 550 describes while discussing his experiences. "When I was 17, my other partner was killed while I was in prison. The only thing the streets give you is death and lost time. Neither one of them you can get back."
In 2013, he was released from prison and joined Future while on the 80's Back Tour. It was after hitting the road did he find his passion for rapping and he hit the ground running. Street Kingz was released in 2014 and featured production from Metro Boomin, K.E on the Beat plus guest appearances from Casino and Young Thug. In 2016, 550 dropped two collaborative projects, 50 a Fool with producer Will-A-Fool featuring his hit single "80s Back" with his blood cousin Future, and 2 Fat Niggas with Casino that had 21 Savage lay a guest verse. In 2017, 550 dropped Paper Trail and partnered his label of the same name with Crown King Productions (CKP).
Outside of his tapes, 550 has made records with some of today's biggest rappers such as Kevin Gates ("Boss Shit"), Waka Flocka ("Traphouse 550"), Young Nudy ("Paranoia") and more. All of these guest verses were able to happen because of mutual respect, "I never paid for any feature," says 550.