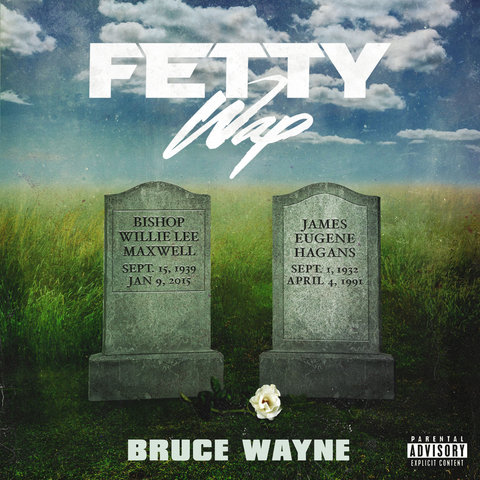 Grammy-nominated artist, Fetty Wap, is gearing up for the release of his newest mixtape, Bruce Wayne, coming this Thursday, June 7th 2018, which is also Fetty's birthday. In anticipation of the 11-track project, fans can pre-save the mixtape. The "Trap Queen" rapper also wanted to share the Bruce Wayne tracklist and artwork.
The Bruce Wayne artwork features the tombstones of Fetty's grandparents, who have played an extremely important part in shaping his character and teaching him the importance of giving back. Identifying with the charitable efforts of 'Batman,' Fetty Wap has dedicated this chapter of his career to giving back to his community of Paterson, NJ. Recently, Fetty gave thousands of gift-cards away at a local grocery store during Easter and hosted a turkey drive this past Thanksgiving. Bruce Wayne's release comes shortly after the nation-wide For My Fans Tour and the third installment of the For My Fans III mixtape.
Be sure to look out for Fetty Wap's Bruce Wayne mixtape Thursday, June 7th on all streaming platforms at 12AM/EST.
Bruce Wayne Tracklist
1. Bruce Wayne [Intro]
2. So Different
3. Strawberry Kush
4. Look At Me
5. Bruce Wayne
6. All For You
7. Star Strucj
8. Westin
9. What We Do
10. Wavy
11. Hit Some Corners