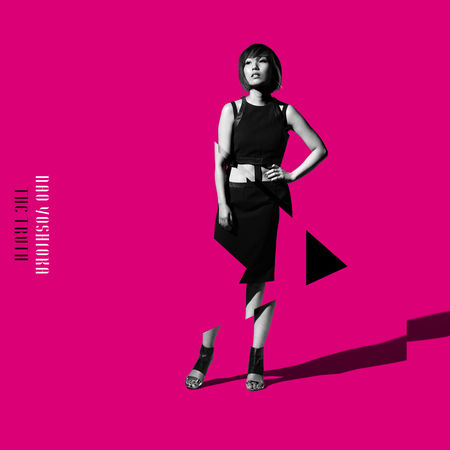 NEW ALBUM:
NAO YOSHIOKA
THE TRUTH
MUSIC VIDEO "SPARK"
Today, Japanese soul-singer Nao Yoshioka is thrilled to release The Truth, her third album available now via Yamaha Music / Sweet Soul Records. The album is a labor of love blending elements of soul, jazz, R&B and funk wrapped in her sweetly nostalgic aura and calming tone. The 11 track neo-soul project is a collaborative effort with Emmy winning and Grammy nominated producer 
Khari Mateen
 (The Roots, Jill Scott), Grammy nominated songstress 
Carolyn Malachi
, Swizz Beatz protégé 
Tyrone "MusicMan Ty" Johnson
 (Alicia Keys, Snoop Dogg) and in-house producer Hiroyuki Matsuda.
Yoshioka says, "On my musical journey I have traveled to many countries and I realized that music has always connected me with people no matter the race or culture. Because of this, I feel that I have found a positive truth. The truth that I found is that music unites us as one by knocking down all barriers. This powerful concept led me to create this album and the messages found within. I also tried a lot of new things for this album which makes it a very experimental project music-wise. I tried to talk about a few different topics for the first time and tried a different vocal approach to express it, so I'm hoping that the listener can feel the positive truth from my album!"
Also releasing today is Nao Yoshioka's music video for silky smooth single"Spark." With direction by Naoki Yamanouchi and Nao Yoshioka herself, she glows against the Tokyo skyline as the music ignites the spark within. The electric Hirotuki Matsuda produced track was co-written with Grammy nominated songstress Carolyn Malachi and is featured onThe Truth album.
Nao explains, "Tokyo is a gorgeous magical place that allowed me to visually express the incredible moment I'm singing about in 'Spark.' This whole project is so deeply personal that I was inspired to also direct for the first time. I'm very grateful to my team who helped me bring my vision to life."
TRACKLIST:
01. Journey (Intro)
[Produced by: Khari Mateen]
02. Borderless
[Produced by: Hiroyuki Matsuda]
03. The Truth
[Produced by: Khari Mateen]
04. Freedom & Sound
[Produced by: Marcus J. Marshall]
05. Beautiful Imperfections
[Produced by: Oscar OsKeyz Stieler]
06. I Love When
[Produced by: MusicMan Ty]
07. Set Me Free
[Produced by: MusicMan Ty]
08. Spark
[Produced by: Hiroyuki Matsuda]
09. Journey II (Outro)
[Produced by: Khari Mateen]
10. Fireking
[Produced by: Hiroyuki Matsuda]
11. Make the Change (James Poyser Remix)
[Remixed by: James Poyser/Originally produced by: Hiroyuki Matsuda]
ABOUT NAO YOSHIOKA:
Nao Yoshioka is a progressive soul-singer who continues to evolve beyond all boundaries. In 2015, her powerful voice and New York-styled delivery won her SoulTracks' 'New Artist of the Year' award and earlier in her career propelled her to runner-up in the legendary Apollo Theater Amateur Night. Since her debut single "Make the Change" was released in 2012, she's received kudos from a number of soul music veterans including Grammy-winning singer and songwriter Gordon Chambers.
In 2015 after releasing her debut album "The Light," she sold-out Japan's Blue Note Tokyo, performed at the hugely popular Summer Sonic festival and also guested with bassist Nathan East at Billboard Live Tokyo. In the summer of 2016, Nao performed at her first major US music festival,Capital Jazz Fest alongside legends like Lalah Hathaway and Marcus Miller. She has also performed at venues around the world including Blue Note New York, the legendary Birchmere where she has opened for José James and Rahsaan Patterson, Club Dauphine in The Netherlands where she shared the stage with saxophonist Candy Dulfer, and Hideaway, South London's award-winning live music venue. In 2017, Nao Yoshioka toured Japan, The Netherlands, the United Kingdom, and also performed during the 11th Annual Capital Jazz SuperCruise sailing from New York to Bermuda.