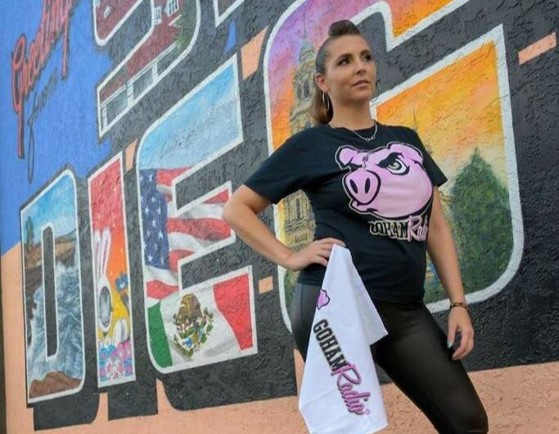 Article Courtesy of SDVoyager
Today we introduce Nicolle Fedor Stewart.
Thanks for sharing your story with us Nicolle. So, let's start at the beginning, and we can move on from there.
Okay, great. First off, I am the CEO and Station Manager for GoHAM Radio®.
GoHAM Radio® was thought of in the Spring of 2011 in the living room of my college apartment. During this time, I was attending school at Cal State LA in East Los Angeles for Television, Film and Media Studies. I had recently relocated there from San Diego after graduating from Grossmont College with my Associates Degree in Cross-Media Journalism.
This move was made in an effort to elevate both the knowledge I gained from Grossmont Community College along with the practical experience I obtained working with radio stations and record labels while living in the San Diego area. Nationally, Los Angeles is the #2 ranked market for radio and I felt as if I had hit a ceiling here in San Diego, which is ranked #17. Once I relocated to Los Angeles, my focus became the future.
I asked myself things like: "What can I contribute to the Music and Entertainment Industry that would be positive, everlasting and fun?", "How can I utilize my knowledge and experiences to pay it forward to my Community?", and "What are the challenges that I, and others like me, have faced along this journey?"
Those were just a few of the basic questions I challenged myself to answer when developing my career path, which soon evolved into my solution: GoHAM Radio®.
From there, the logo and trademarking process began and on February 28th, 2012 GoHAM Radio® became a federally recognized trademarked entity. This new ownership became a guarantee that any future developments, branding or launching efforts would not be done in vain.
After a few years of planning and preparation, coupled with a move back to San Diego after graduation, on Friday, September 1st, 2017, GoHAM Radio® was launched with the airing of #STREETTALK with The Swift Gang showcasing breakthrough San Diego singer and song writer, Kay.Mella.
Overall, has it been relatively smooth? If not, what were some of the struggles along the way?
As with all start-ups, the initial road to success can be a bit bumpy. Some of the struggles GoHAM Radio® has encountered in the past 18-months has been: the misconception that we are a podcast show versus a Radio Station, and that we charge artists for interviews and/or Station rotation.
In a day in age when radio has turned corporate and technology has become affordable, an influx of podcasters and artists have become independent and have emerged on the digital scene. We, unlike podcasters, offer LIVE shows that broadcast in real time on our website, GoHAMRadio.com, which also hosts all of our visual content and archived shows. An archived show, which is a copy of a prior LIVE show, is not the same as a podcast pre-recorded show which allows time for editing; hence, the misunderstanding.
We are also more than a show; we are a FREE media platform. This means that any artist that is interested in airplay on our Station can simply email us mastered mp3 tracks–free of charge–and within 48-hours, their song is in rotation and able to be heard on GoHAMRadio.com. They can also email us for any interview inquiries.
We here at GoHAM Radio® believe that we are messengers of music, not gatekeepers, an thus, we offer an equal opportunity of expression to everyone.
Please tell us about GoHAM Radio®.
For those who are unfamiliar, GoHAM stands for our Station's mission and "soul" purpose, which is "Giving Opportunity, Hope And Mentorship."
GoHAM Radio® is an internet-based radio station that: streams local and major artists, hosts weekly radio shows, provides in-field media coverage, offers various sponsorship opportunities, highlights community activities, renders event services such as photo booth operations, hosting and DJing, plus we have official GoHAM Gear available for purchase on our website: GoHAMRadio.com.
Furthermore, as an online radio station, we offer a competitive edge in the digital age of music, marketing, and entertainment. We have discovered that shifting from frequency modulation technology to a more progressive digital data streaming technology, produces an increased amount of freedom from FCC regulations with regard to content and/or language, but most importantly, our audience is not constricted by distance limitations posed by transmitted radio frequencies.
En lieu of this advancement, we now have the capabilities to take something/someone local and give it/them international exposure; which is, undeniably, the new wave.
Since the Station's launch in 2017, GoHAM Radio®'s brand and listener-ship has grown exponentially. This surge occurred by offering a FREE platform for musicians coupled with an unbiased voice for the Community.
Additionally, we have successfully embedded the Station into the underground urban music scene here in San Diego with events like the monthly Talk of the Town artist showcase, quarterly Podcast/Media Expos, seasonal #HAMFAMJAMs, and end of the month ThursDAZE, just to name a few.
Our goals for 2019 are simple: increase awareness and expand our demographic with more Community involvement and support.
Anyone interested in submitting music or collaborating with GoHAM Radio® in any form, please email us at Requests@GoHAMRadio.com. You can also connect with us on all social platforms; just search GoHAMRadio.
If you had to go back in time and start over, would you have done anything differently?
We believe every step in our past has paved the way for where we are now. We trust the process of growth and would not change any part of the journey, past present or future.
Contact Info:
Website: www.GoHAMRadio.com
Phone: (323) 36-GoHAM(46426)
Email: Requests@GoHAMRadio.com
Twitter: @GoHAMRadio