IDENTITY LA:
A Night Celebrating
Asian American Pacific Islander Women
PACIFIC BRIDGE ARTS FOUNDATION
MUSIC ARTS SCHOLORSHIP FUND
HONOREES:
Awkwafina
Nadya Okamoto
& Center for the Pacific Asian Family
HEADLINE PERFORMANCE:
BY TOKiMONSTA
Featuring Yuna
With Support By Milck & Sophia Black & Katherine Ho
HOSTED BY:
Michelle Khare & Christine Chen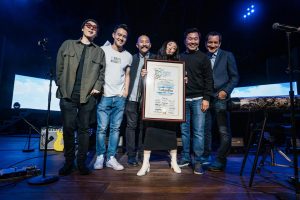 From Left: Kev Nish, Philip Wang, Prohgress, Awkwafina, David Ryu, Anthony Rendon
Photo Credit: Jon Endow
On Saturday, May 11th, Pacific Bridge Arts Foundation honored triple threat actress, comedian and rapper Awkwafina, social entrepreneur and activist Nadya Okamoto and non-profit Center for the Pacific Asian Family for their outstanding contributions to the Asian American Pacific Islander (AAPI) communities. During the May 11th celebration at the Ford Theatres in Los Angeles, the City of LA presented these trailblazing AAPI women with special plaques of distinction. The free and open-to-the-public event celebrated the city's diverse AAPI community specifically influential AAPI women during Asian Pacific American Heritage Month.
"I performed at this very event a couple years ago and to be standing here today receiving [this award] is an honor, explains Awkwafina. "I think that events like this are really important, especially ones that celebrate Asian American women at a time like this, so give it up for yourself if you're an Asian American woman. You're out here representing us too. I look forward to the future generations that will be standing here, performing here, being honored here because it's all about that. I feel very blessed to be here, so thank you all."
To honor the forward movement of AAPI women, the event was hosted by YouTube influencer and actress Michelle Khare and inspirational speaker Christine Chen. Grammy nominated dance artist TOKiMONSTA, who is of Korean descent, headlined the night of not-to-be-missed performances while reuniting with her long-time collaborators Malaysian singer-songwriter Yuna and LA. There were also performances by Chinese-American singer-songwriter MILCK, Japanese-American, trilingual R&B pop-star Sophia Black featuring special guest Super Duper Kyle and Katherine Ho performing her cover of Coldplay's "Yellow" from the movie Crazy Rich Asians.
This year also marks the launch of Pacific Bridge Arts Foundation's first annual Musical Arts Scholarship Fund. The award will be presented to AAPI college students pursuing a degree in the Musical Arts. The foundation will provide financial assistance along with mentorship and music industry connections to influential artists and executives. Students can apply before the August 2, 2019 deadline. More information and application details here: https://pacificbridgearts.org/scholarship/
"We wholeheartedly celebrate this community that we are so honored to be a part of," says Pacific Bridge Arts Foundation co-founders Far East Movement. "We're excited to launch the scholarship program this year to support the next generation of artists in the AAPI community. We hope for them to follow their passion and blaze a trail for themselves."
"Los Angeles is home to more Asian Americans and Pacific Islanders than anywhere else in the nation," Councilmember David Ryu said. "As the fastest growing subset of the American population, Asian Americans and Pacific Islanders will author the next great chapter in the American story. For Asian Pacific American Heritage Month, I am honored to bring our many AAPI communities of Los Angeles together to celebrate where we've been, where we're going, and the leaders who are paving the way forward. I'm especially excited this year to shine a spotlight on AAPI women who are breaking barriers and leading the way for positive change, and highlight their inspiring stories."
Pacific Bridge Arts Foundation is now in its 4th year of showcasing how the AAPI community shape the culture of Los Angeles. Last year's event was held in front of City Hall in Downtown Los Angeles with headliners Mike Shinoda of Linkin Park and Jay Park and the gourmet cuisines of chef Roy Choi of the famed Korean Kogi food truck. Past honorees include digital pioneer Jenn Im, activists Taz Ahmed & Zahra Noorbakhsh of #GoodMuslimBadMuslim, and the cast and crew of the film "GOOK."
ABOUT AWKWAFINA:
AWKWAFINA is an American actress, writer, rapper and musician from Queens, New York. Awkwafina, whose given name is Nora Lum, brings an impressive range of talent peppered with her signature flair, and has become a major breakout talent.Lum can most recently be seen on the big screen as Peik Lin in Warner Bros' "Crazy Rich Asians" opposite Constance Wu, Michelle Yeoh, Henry Golding & Ken Jeong. The film opened August 15 2018 to rave reviews. She also hosted "Saturday Night Live" on October 6th, 2018 in the show's 44th Season.
Additionally, last year Lum was seen in Warner Bros' box office hit "Ocean's 8" which was directed by Gary Ross and featured an ensemble cast including Sandra Bullock, Cate Blanchett, Anne Hathaway, Mindy Kaling, Sarah Paulson, Rihanna and Helena Bonham Carter. Prior to that she starred in the indie comedy "Dude," written and directed by Olivia Milch, which follows four best girlfriends in the last two weeks of their senior year in high school.Lum made her feature film debut in the comedy "Neighbors 2: Sorority Rising," with Seth Rogen, Zac Efron and Rose Byrne. She was also heard as the voice of Quail in the 2016 animated adventure "Storks."
Noted for the satire of her hilarious original music, Awkwafina became an internet sensation in 2012 with her viral video "My Vag." Her 2014 debut album featured her acclaimed raps "NYC Bitche$," "Mayor Bloomberg (Giant Margarita)," and the title track, "Yellow Ranger." Her first book, Awkwafina's NYC, a travel guide to New York, was published by Penguin Random House in 2015.
Lum will next be seen in "The Farewell" this summer, "Jumanji 2" in December and her Comedy Central Show "Awkwafina" in 2020.
ABOUT NADYA OKAMOTO:
Nadya Okamoto, who grew up in Portland, OR, is 21-years-old Harvard student on a leave of absence. She is the Founder and Executive Director of PERIOD (period.org), an organization she founded at the age of 16. PERIOD is now the largest youth-run NGO in women's health, and one of the fastest growing ones here in the United States. Since 2014 they have addressed over 500,000 periods and registered over 300 campus chapters. In 2017, Nadya ran for office in Cambridge, MA. While she did not win, her campaign team made historic waves in mobilizing young people on the ground and at polls. Nadya recently published her debut book, Period Power: A Manifesto for the Menstrual Movement with publisher Simon & Schuster, which made the Kirkus Reviews list for Best Young Adult Nonfiction of 2018. Nadya is the Chief Brand Officer of JUV Consulting, a Generation Z marketing agency based in NYC. Most recently, she was named to InStyle Magazine's "The Badass 50: Meet the Women Who Are Changing the World" list, along with Michelle Obama, Ariana Grande, and Dr. Christine Blasey Ford.
ABOUT CENTER FOR THE PACIFIC ASIAN FAMILY:
In 1978, CPAF established the first multi-lingual hotline assisting API survivors of domestic violence, sexual assault and child abuse. In 1981, CPAF opened the first multilingual and multicultural emergency shelter in the nation that specialized in serving API survivors of domestic violence. CPAF was also the first to open a multilingual and multicultural transitional shelter focusing on the needs of survivors who seek to establish independent, violence-free lives. A walk-in community center is now available where survivors are able to come in directly for confidential and supportive services. Currently, CPAF's programs are all provided free of charge in 30 API languages.
To this day, CPAF continues to be the only agency in California that provides comprehensive services to API survivors of sexual assault, and the only 24-hour hotline and emergency shelter providing targeted services to API survivors in Southern California.
ABOUT PACIFIC BRIDGE ARTS FOUNDATION:
The mission of the Pacific Bridge Arts Foundation, a 501(c) non-profit co-founded by Far East Movement and Wong Fu Productions, is to provide a platform, resources and education for both up-and-coming and established leaders within the Asian American and Pacific Islander arts & culture community. This is accomplished through, but not limited to, outreach, education, advocacy, events and grants.