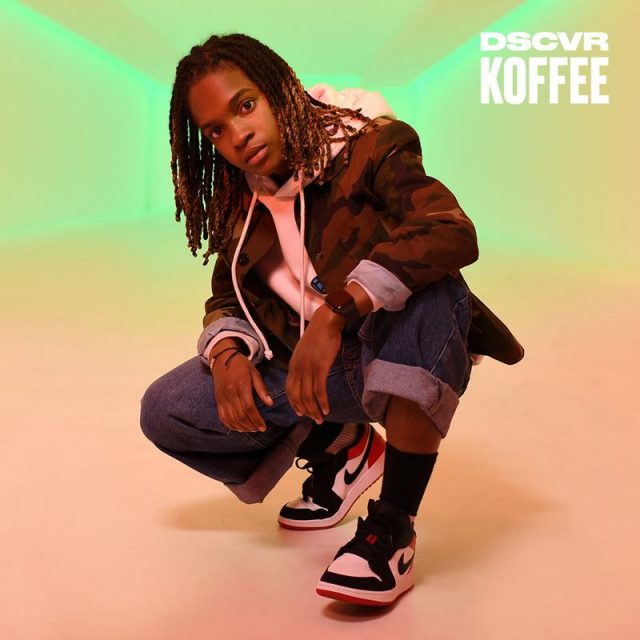 Vevo and Koffee Release DSCVR Videos
"Toast" and "Ragamuffin"
Vevo announces the release of Koffee's DSCVR performances of "Toast" and "Ragamuffin." Vevo DSCVR focuses of the development of emerging artists, through performance content and careful curation. Vevo has a long history of helping emerging artists break through to new and wider audiences. Past alumni of Vevo's DSCVR series include Billie Eilish, Duckwrth and Kiana Lede. Vevo is committed to working with artists at an early stage of their career to create unique content that brings their music to life visually and provides exposure to new audiences through the platform.
"Me? I'm just down to earth." 18-year-old musician Mikayla "Koffee" Simpson may be small in stature and disarmingly unassuming but her modesty – and height – belies huge amounts of talent. The 5'0, self-described "sing-jay-guitarist" is one of the most exciting, forward thinking, globally focused teenage talents to recently emerge. Describing herself as sitting somewhere between a singer, a rapper (known as a DJ in Jamaica) and a guitarist, Koffee's current output has tended towards the more traditional Jamaican rhythms. But while reggae is on the agenda at the moment, Koffee intends to take in the many artists who have influenced her over the years, from Protoje and Super Cat to St Louis rapper Smino and UK Rap star Giggs.
"I want to bring positive change to the world because I think the world needs that more than just individual success," Koffee explains. "My personal success could be ten cars and a big house but that doesn't influence many people other than myself and the people around me who that benefit from that. I want to be a positive movement and make a positive movement, at the same time. I want to bring vibes and positive change. I want to impact the world." Catch Koffee on tour throughout the summer, and keep up with exclusive content from artists all over the world on YouTube.com/vevo.
Koffe – Toast
Koffe – Ragamuffin