Special Guests Big Runts and Eddie Kaine join J-Luv and Starr Saxxxon for Microphone Masters!
Big Runts are a duo comprised of Cris G and Bulldogg Steven. Hailing from Los Angeles and Boston respectively, they call L.A. home and make it their mission in life to rock crowds and impress underground Hip Hop circles. Starr Saxxxon came across the talented cats and he made it a point to get them on the show.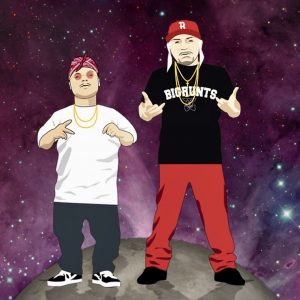 They talk about overcoming obstacles, including being little people in the world of Hip Hop. Both of the members were born with to rare conditions, "Achondroplasia" and "SED". They also touch on their style and chemistry.
Eddie Kaine represents for his Bed-Stuy Brooklyn home turf. With his debut, Aruku ready for the world to consume, Eddie stops by Microphone Masters to talk about the project and understanding that not all in your surroundings are hoping for your success.
Catch songs from Wascals, Eddie Kaine, Kwest the Madd Ladd, Big Runts, Cypress Hill and more.
Reach out to the show at mm@dubcnn.com and check us out on Facebook!
Microphone Masters Radio Episode 221 (09-27-19) Tracklist
Intro
Del the Funky Homosapien – Naked Fonk
Eddie Kaine – Part 1
Eddie Kaine – Aruku
Deraj feat Too Short – Sloppy Seconds Leftovers
Eddie Kaine – Part 2
Eddie Kaine – Everything's a Go
Trendz of Culture – Valley of the Skinz
Eddie Kaine – The Illest
Big Runts – Part 1
Big Runts – Broke No More
Kwest the Madd Ladd – Disnexone
Big Runts – Runnin' from 12
Big Runts – Part 2
Big Runts – Block Boyz
Wascals – The Dips
Outro
Cypress Hill – Boom Biddy Bye Bye
Microphone Masters Radio Episode 221 (09-27-19) Show (Stream/Download)

Thank you for your continued support of Microphone Masters Radio and you can hit up the show at mm@dubcnn.com or hit the comments section or the Dubcnn Facebook page. Tell a friend to tell a friend!