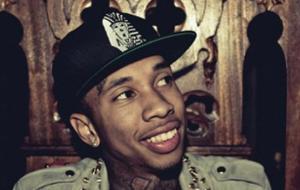 Tyga's bounce back was phenomenal this year and end's on an all-time high.
Today, it was announced that the former Lil Wayne-protege will be joining the Columbia Records family. His third major contract, after being released by Cash Money in 2008, TMZ reported that the new deal is a multi-album deal worth $41-Million dollars.
A well deserved offer after being one of the hottest artist of 2019 with countless new hits like "Taste," "Girls Have Fun" and "Dip". During his EMPIRE-run, Tyga became a most-sought artists with the mega-stars like Nicki Minaj, J. Balvin, and Doja Cat. Amplifying his recent success, Columbia wants to transform Tyga into a global name like their roster of acts, including Lil Nas X, Beyonce and A$AP Rocky.
Tyga talks to Variety on the new deal, saying, "They (Columbia) definitely understand the global brand of the company. I have a lot of fans worldwide — in places I've never been like South America, and in places I have been like Asia and Europe. They can help bring that to a larger scale. Doing it independently, you don't really have those teams to help worldwide. Sony, if you look at the history from what they've done from Pharrell to Beyonce to Adele — then you look at Lil Nas X, one of their new artists that's blown up this year — they've done a lot for artists globally, for their brand. That's why I wanted to partner up with them."
Over the Summer, Tyga released his latest album, Legendary, featuring Lil Wayne, Chris Brown, A Boogie Wit Da Hoodie, and Swae Lee. More on this story as it develops.