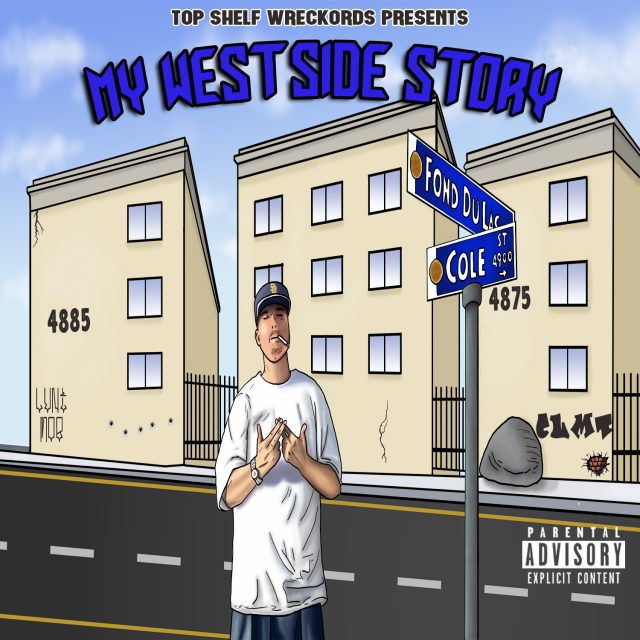 Johnny Collarossi Shines with Tell All Album:
San Diego native and rapper Collarossi is no stranger to the rap game and the hustle of the streets as he has been dedicated to his art for the last decade. With every release Collarossi comes back with stronger production, catchier choruses and more wisdom packed with game. The Top Shelf Wreckords artist proves himself like fine wine in the independent music circuit and presents a refreshing West coast sound that reflects decades of the game.
'My Westside Story' (releasing worldwide on October 26th, 2020) is filled with confident and braggadocios flows and lyrics that create an entertaining yet realistic hustlers tale that is backed by smooth, slick modern Westcoast production by Fetty Francois out of France. The album starts with a deep voiced intro by Long Beach legend RBX, setting the Westcoast tone, introducing Collarossi to the microphone to tell his 'Westside Story'; Filled with tales about his home turf and the Cole St block of San Diego California laced with heavy southern cali vibes.
Collarossi brings back the old school album format in the sense that 'My Westside Story' run 19 tracks long and offers listeners a good hour of player made mob production that gives the audience a handful of favorites to choose from. Our personal favorite is 'Cali Love Part 2' featuring talkbox talent Brasshogg which provides a late afternoon like vibe with hints of DJ Quik magic mixed in with the production – 'Home of the city where the Gangsters Play' – you will definitely catch a whiff of some cali kush listening to this collaboration. Brasshogg also shines alongside Collarossi on another cali anthem with 'So WestCoast' featuring Big2DaBoy – the synth lead will grasp you back to the times of Tha Dogg Pound and The G-Funk Era.
Though 'My Westside Story' boasts its tribute to the westcoast culture throughout; Collarossi also provides hyphy like party jams with 'Savvin', mobbish bangers like 'Pablo' and emcee beatings with 'Amnesia' & 'Act Right Juice'.  In conclusion, Johnny Collarossi's 'My Westside Story', delivers an enjoyable listen and soundtrack for the whip as Collarossi glides naturally on Fetty Francois's production that perfectly captures the celebrated westcoast sound.
Be sure to roll up something tight and grab a cold one while you listen to Collarossi's 'My Westside Story'..Listen to the album preview here!