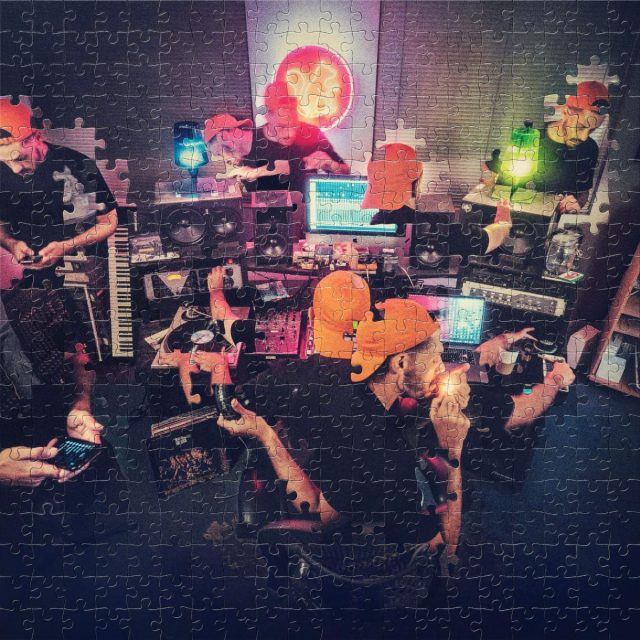 Today, one of underground Hip-Hop's most enduring artists, Evidence, releases his highly anticipated fourth solo studio album, Unlearning Vol. 1, via Rhymesayers Entertainment. Alongside the album is a new music video from director Stephen Vanasco for the standout track "Where We Going from Here…" in which Evidence walks the streets of his hometown of Venice, Los Angeles reflecting on how far he's come and what lies ahead, saying "It's a Dub-I-P until the day E-V's / D-O-A and I see my G's / I've been thinking / what's the point of this life / and start writing / pen to my paper in dark / and spark lightning… So where we going from here / been a hell of a day / been a hell of a year."
Unlearning Vol. 1 was announced in April with the lead single and music video, "Better You," which was followed by the music videos for "All of That Said" and "Pardon Me." It has already been named one of "The 10 Best Rap Albums of 2021 So Far" by Ambrosia for Heads, with the album announcement drawing the attention of HipHopDX, 2DopeBoyz, Ballerstatus, and more. The fourteen-track effort pairs Evidence's own production with that of The Alchemist, Nottz, Sebb Bash, Animoss, Mr. Green, V Don, Daringer, Khrysis and EARDRUM (QThree), showcasing Evidence's uncanny ability to collaborate with a wide range of producers and still deliver a cohesive album. A small but powerful cast of guest appearances decorate the album's soundscape, with Boldy James, Conway The Machine, Fly Anakin, Navy Blue, and Murkage Dave each holding their own alongside Evidence.
Evidence's last solo album, Weather Or Not, was critically and commercially acclaimed, drawing attention from Billboard, Pitchfork, DJ Booth, and more, as well as being voted 2018's best album of the year by readers on Ambrosia For Heads. Following the release, in interviews with No Jumper and DJ Booth, Evidence offered insight into his mindset transitioning from Weather Or Not into the writing and recording of what would become Unlearning Vol. 1. "I don't feel like I'm Evidence, the character. I feel like I'm me," he revealed to DJ Booth, adding "I don't mind evolving publicly."
WATCH "WHERE WE GOING FROM HERE" MUSIC VIDEO:
https://youtu.be/E5uTml-cdOg
LISTEN TO UNLEARNING VOL. 1:
https://rse.lnk.to/UV1
ORDER PHYSICAL COPIES & EXCLUSIVE MERCH:
http://bit.ly/UV1Collection
More about Evidence:
As a solo artist, and one-third of Dilated Peoples, Evidence has established himself as one of hip-hop's most accomplished rappers and producers, working with The Alchemist, Beastie Boys, DJ Premier, WestsideGunn, Linkin Park, Prodigy, Rapsody, Aloe Blacc, Action Bronson, Slug (of Atmosphere), Cypress Hill and many more. He's also earned a Grammy Award for co-production on Kanye West's College Dropout and two JUNO Awards for his work with Canadian hip-hop group Swollen Members. In addition to 3 solo albums and 1 solo EP, he has also recorded and released five albums together with Rakaa Iriscience and DJ Babu as Dilated Peoples, and one album together with The Alchemist as Step Brothers. Evidence is set to release his 4th solo album, Unlearning Vol 1 this summer, 2021.
Unlearning Vol. 1 Tracklist:
1. Better You [Produced by The Alchemist]
2. Start The Day With A Beat [Produced by Evidence, Cuts by DJ Skizz]
3. Sharks Smell Blood [Produced by Sebb Bash]
4. Pardon Me [Produced by Animoss]
5. All Of That Said feat. Boldy James [Produced by Evidence]
6. Won't Give Up The Danger feat. Murkage Dave [Produced by Mr Green]
7. Moving On Up feat. Conway the Machine [Produced by Daringer, Cuts by DJ Babu]
8. Talking To The Audience [Produced by Khrysis]
9. All Money 1983 [Produced by EARDRUM (Qthree)]
10. Pray With An A feat. Navy Blue [Produced by EARDRUM (Qthree)]
11. Lost In Time (Park Jams) [Produced by Nottz, Cuts by DJ Babu]
12. Delay The Issue feat. Fly Anakin [Additional Vocals by Luke James, Produced by Evidence]
13. Taylor Made Suit [Produced by V Don]
14. Where We Going From Here… [Produced by Sebb Bash]
More on Evidence:
Website: http://www.rhymesayers.com/evidence
Facebook: Mister Evidence
Instagram: @evidence
Twitter: @evidence