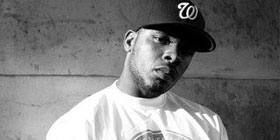 As promised the other day, Bishop Lamont comes through and drops "The Layover" mixtape hosted by DJ Woogie. As always, Bishop offers his music for free and as you would expect from the Carson emcee, he cooked up a crazy line-up just to give it away like that.
"The Layover" features 28 songs with bars from Raekwon, Planet Asia, Rakaa & Evidence, Rapper Pooh, Kobe, Phil The Agony, Chace Infinite, Krondon, Mopreme Shakur, Royce the 5'9, El Prez, Curtiss King, Dion and many more. Production from The Alchemist, King Karnov, Focus, Madlib, Diverse and others. It might have been quiet around Bishop as of late, but don't count him out just yet!
Download/stream, tracklist + credits below. Shouts to DatPiff on the premiere!
Bishop Lamont – The Layover (Free Download)

[raw]
[/raw]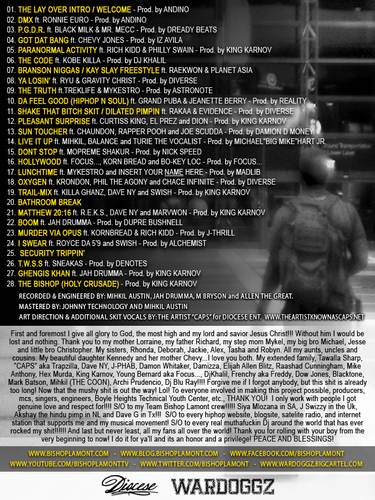 Bishop Lamont – The Layover (Free Download)

01. The Lay Over Intro Welcome – Produced By Andino
02. Dmx Ft. Ronnie Euro – Produced By Andino
03. P.G.D.R. Ft. Black Milk & Mr. Mecc
04. Got Dat Bang Ft. Chevy Jones
05. Paranormal Activity Ft. Rich Kidd & Philly Swain
06. The Code Ft. Kobe Killa
07. Branson Niggas Kay Slay Freestyle Ft. Raekwon & Planet Asia
08. Ya Losin' Ft. Ryu & Gravity Christ – Produced By Diverse
09. The Truth Ft.Treklife & Mykestro
10. Da Feel Good (Hiphop N Soul) Ft. Grand Puba & Jeanette Berry – Produced By Reality
11. Shake That Bitch Skit Dilated Pimpin Ft. Rakaa & Evidence – Produced By Diverse
12. Pleasant Surprise Ft. Curtiss King, El Prez And Dion – Produced By King Karnov
13. Sun Toucher Ft. Chaundon, Rapper Pooh And Joe Scudda – Produced By Damion D Money
14. Live It Up Ft. Mihkil, Balance And Turie The Vocalist – Produced By Michael Big Mike Hart Jr.
15. Dont Stop Ft. Mopreme Shakur – Produced By Nick Speed
16. Hollywood Ft. Focus…, Korn Bread And Bo-Key Loc – Produced By Focus…
17. Lunchtime Ft. Mykestro And Insert Your Name Here – Produced By Madlib
18. Oxygen Ft. Krondon, Phil The Agony And Chace Infinite – Produced By Diverse
19. Trail Mix Ft. Killa Ghanz, Dave Nyand Swish – Produced By King Karnov
20. Bathroom Break
21. Matthew 20 16 Ft. R.E.K.S., Dave Ny And Marvwon – Produced By King Karnov
22. Boom Ft. Jah Drumma – Produced By Dupre Bushnell
23. Murder Via Opus Ft. Kornbread & Rich Kidd – Produced By J-Thrill
24. I Swear Ft. Royce Da 5'9 And Swish – Produced By Alchemist
25. Security Trippin'
26. T.W.S.S – Ft. Sneakas – Produced By Denotes
27. Ghenghis Khan Ft. Jah Drumma – Produced By King Karnov
28. The Bishop (Holy Crusade) – Produced By King Karnov