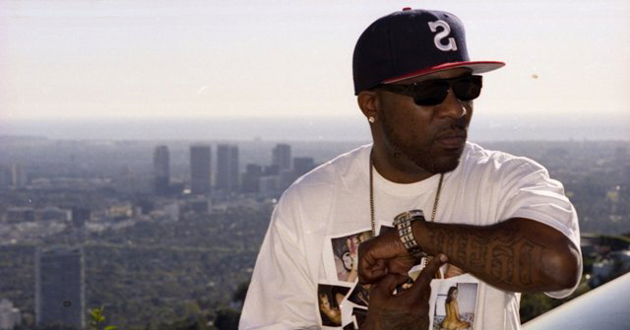 DubCNN had the chance to catch up with San Diego's hometown hero Mitchy Slick and super producer DJ Fresh (who now goes by The World's Freshest) in time to discuss the release of Mitch's upcoming solo album "Feet Match The Paint", which is dropping on April 23rd 2013 and is entirely produced by Fresh.
In this interview, they tell us about the making of the project, the guest appearances (Murs, Planet Asia, Strong Arm Steady…) as well as the art of balancing gangster music and Hip-Hop. The first video off the album was released recently, watch it here.
…………………………………………………………………………………..
Interview was conducted March 2013
Questions Asked by: Nima Etminan
…………………………………………………………………………………
Dubcnn Exclusive – Mitchy Slick & The World's Freshest (DJ Fresh)
By: Nima Etminan
………………………………………………………………………………
Watch The Interview
Dubcnn: We got Mitchy Slick, we got The World's Freshest (DJ Fresh) right here in the studio, in the lab. Empire Distribution, San Francisco. Mitch its been a minute. People have been waiting on a project from you. And you know, you teamed up with Fresh to put out an album very soon. Let us know what its called man.
Mitch: It's called "Feet Match The Paint". It's been a while coming. But on everything, I know motherfuckers be doing their music and they fall off and try to get back and all that shit. That ain't what this is. This is some whole other shit right here. Everything I finna be dropping is some whole other shit, but this be some boutique shit between me and my bro, you know.
Dubcnn: So is this a Tonite Show project?
Fresh: No, this is the "Feet Match The Paint", exactly whats its titled. It's "Feet Match The Paint", it's a Mitchy Slick solo, produced exclusively by me.
Dubcnn: OK, because you know you've done a lot of collaboration projects with artists in the past – big and small artists – and it's usually been Tonite Shows. What made you want to get in the lab with Mitchy Slick to knock out a real album?
Fresh: I mean everybody ain't gonna get a Mitchy Slick album, you know? It was like, if we're going to do that, let's just make it one of his own. Not to discredit the Tonite Show series, the Tonite Show series is one of the dopest series going. But I just felt like – we both felt like – we wanted to make this be a little more exclusive in its in own…and here it is…Feet Match The Paint.
Dubcnn: If you had to describe the sound of this record, how would you put it in words?
Fresh: Man it's just fly shit, gangster shit. It's just some good music, dope shit. It's gangster rap and Hip-Hop at its finest. Straight up, thats what it is.
Dubcnn: I mean combining gangster rap and Hip-Hop is something that you've been doing for a long time. How would you compare this project to some of the previous stuff you've put out?
Mitch: Mitchy Slick is two different monsters. Because my original fan base is strictly for all the Southern Cali knuckleheads. It's gangster music, but like authentic gang banger – not gangster – gang banger music! That's what I'm kinda known for, you know. But you grow, you know what I'm saying? Not grow out of shit, but you grow. You know, that's just a chamber now – because I've got different chambers now.
This shit I'm doing with Fresh is like me reaching out more, trying to do stuff that's more for what I like, instead of just what I know people in this particular demographic like. We're trying different shit. The homie got a particular swag with his beats and shit. He go different places to grab different shit. Like even with Fresh's production, he's a westcoast cat right, but his style of making beats is from more of a – matter of fact I can't even say 'more' – it's like equally mixed Hip-Hop and street, gangster perspective. And that's where we fit in.
I kinda look at it like with meat, when you cook steak, you got rare, you got medium, well done. Strong Arm Steady is that same type of formula, you know what I'm saying? West Coast gangster, right in the middle, but it kinda favored the Hip-Hop side a little bit. And then this with Fresh is not medium, it's like medium well a little bit, because it favors the gangster side a little bit. So really it's that same shit. It's all these elements poured into the shit, but it's a little bit more gangster just because of how me and my nigga rock.
Dubcnn: And any specific guest appearances that we can expect on the record?
Mitch: We didn't just go and get my regular cats this time, you what I mean. We went and got some other cats that we don't usually have on Mitchy Slick albums, but they're my personal homies though. Like Planet Asia, we got the homie on there. That's a Strong Arm Steady homie, but you would catch me and Planet Asia more on our Strong Arm Steady tip. He came over here and got all the way with me. Him and the homie Murs, from Living Legends and shit. So we've got them, and then you got my niggas, like all my personal homes. Philthy Rich, Phil Da Agony, Krondon, Strong Arm Steady's on the album, I've got a few hitters on there.
Fresh: The Young Kind is on there…
Mitch: Yeah, I got the little homie Skywalker on there. Shout out to my little homie! This is his debut shit right here. He's like a little idiot savant with these raps bruh! I got a little dumb lyricist homie from my label by the name of Skywalker and I'm gonna introduce him to y'all on this shit right here . But yeah, we got a lot of homies, but it's all my personal folks.
Me and Fresh sat up for months homie and put this together. We didn't rush, we took our time…got rid of a few records, threw a couple of extra records on there, some of the records he might not even have thought we were going to use. I got the homie King Trub on there, just records he might not even have thought we were going to use for the project, I just be working. If I like them, I just throw them to the homie, you know what I'm saying. And he be like 'this one go'. But it's killer though, dope album.
Fresh: Cream of the crop!
Mitch: Trub on there twice huh! Shout out to the homie King Trub, you know what I'm saying! Yeah the homie working from Sac.
Dubcnn: So the album's called Feet Match The Paint, coming out April 23rd. Anything else you guys want to let everybody know?
Fresh: Man, just support that man what I'm saying. Its 120% effort – not 110 – 120! And it's off the hook, you know what I'm saying? Here it is.
Mitch: Shout out to all the real street homies who see me out there doing my thing, I made this for ya'll, only a few of us out here doing this shit for real. There's only a few of us keeping it gangster and really making real good music at the same damn time, so respect that. Shout out to all my homies from Logan Ave, shout out all my town, all the Daygo homies what I'm saying. We trying to push it, get it cracking.
Shout of the everybody – Nima, my distribution company, to the homie Ghazi, we pushing. 2013, you haters is going to be sick this year because I fin to make sure the streets got nothing but uncut Wrong Kind shit. I got about four albums coming this year year alone homie, just stay tuned.