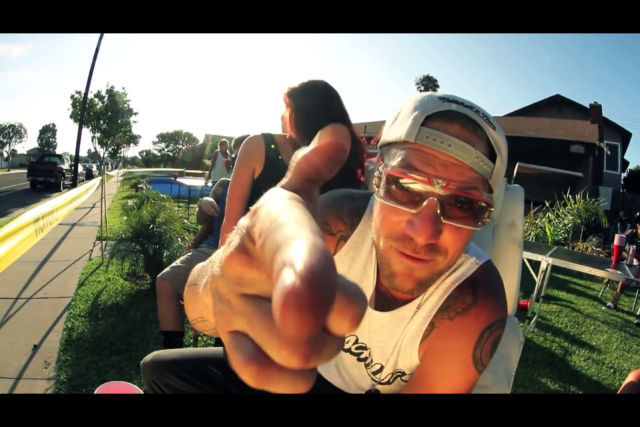 Huntington Beach, CA isn't usually the name synonymous with west coast hip-hop. Cities like Los Angeles, Long Beach, Compton, Oakland, and Inglewood get all the headlines.
However in Huntington Beach, CAthere's a new style coming forward, being led by Preston Gomez, better known as Mr2TheP.
His #beachlife movement is in full swing, having gained sponsorships with prominent companies like Vitamin Water (think 50 Cent), Von Zipper, a division of international surf wear clothing company Billabong, and O'Quinn Clothing to name a few. Mr2TheP isn't the first claim Huntington Beach home and make it big on the west coast scene. Darren Vegas, former producer for Death Row Records and Crooked I, also hails from this area of the sunshine state, and is working solidly in hand with Mr2TheP on his upcoming projects.
In this exclusive interview with Mr2TheP, Dubcnn learns more about the #beachlife movement, his work with former Death Row Records / Crooked I producer Darren Vegas, the Something Totally Dope mixtapes, and much more.
…………………………………………………………………………………
Interview was done in February 2013.
Questions Asked By: Chad Kiser
…………………………………………………………………………………



…………………………………………………………………………………
Dubcnn.com: First things first, tell us a little about yourself and who exactly Mr2TheP is? Tell us about your early career and how you got started doing music.
Preston "Mr2theP" Gomez is a Huntington Beach emcee. I started rapping when I was 15 years old, freestyling over everything on the radio, battling on power 106 Whoa Call and local hip hop spots. I began recording seriously at the age of 17 with high school friends and my current producers The Beat Mafia, which consists of "Sleek Sheek' and "DJ Richard Rocka". When we first started out, we were the west coast version of the Beastie Boys; high-energy, very ahead of our time. Of course, this is before the internet boom, catchy hooks, clever lyrics and all around good time. We went by Alwayz Double Dippin — A.D.D., and after a couple losses of close friends and family members we decided to take a break on the group and focus on my solo career as of January 2011.
Dubcnn.com: One thing I was really impressed with when I read your bio, was the fact that you have a few major sponsors like Vitamin Water and O'Quinn Clothing. How are you able to secure such major sponsorship being independent like you are?
Over my career as a battle rapper and performing I became a guru with networking and talking my way into anything; plus it helped that all of our events were sold out, which made it easy to get anything when companies had budgets. Now, I sponsor myself through #BeachLife, my company and I have really tight relationships with tons of companies in the action sports, industry energy drinks, and clothing. So, as of now I focus on branding myself.
Dubcnn.com: You first made headlines with us last year for your single "I'm Gonna Make It". What's been going on since then?
I've been recording and shooting music videos like they're going out of style! I put out 3 full projects like the STD (Something Totally Dope) volumes, and I have my 4th dropping in a couple weeks. I've been performing a lot; I mentor a lot of artists as well, so I stay busy. I'm currently focusing on booking bigger events for other artists, making that back end money and keeping the ball moving.
Dubcnn.com: You and former Death Row / Crooked I producer Darren Vegas are frequent collaborators. How did you two guys connect, and what are you working on right now with him?
Darren Vegas is also a Huntington Beach native, and we share a studio off 17th street so it was bound to happen. We have been friends for 5-plus years; we have a grip of songs already recorded. The music he and I do is being saved for my debut album dropping this year.
Dubcnn.com: Have you heard any of the unreleased music he did with Crooked I?
Yea I've heard everything he's done, plus I grew up listening to Darren's production throughout my career.
Dubcnn.com: In 2010, you released your first solo project "It's OK To Smoke In Here", and you've since released over 30 videos in the last year alone. You don't slow down, do you?
I do what I do because I love it, that's it bottom line. That's why I do so much because I'm capable of doing what I want, how I want, and when I want — which is good and bad. Sometimes it's overkill, but I don't care because I love creating, it's an addiction I'll never kick!
Dubcnn.com: You've shared the stage with major artists like Kendrick Lamar, Kreayshawn, Big Sean and others. What's it like touring and performing with artists of that caliber?
It's humbling, but because I'm so competitive, it bugs the fuck out of me! [laughs] No hate, but let's just say that's why I go so hard, because I have to until I'm the headliner.
Dubcnn.com: What can we expect next from Mr2TheP?
You can expect dope, original tracks and videos! #BeachLIfe is my movement and I'm going to keep it pushing and stay positive!
Dubcnn.com: Do you have any additional/outside aspirations, maybe even completely away of entertainment?
I've done on-air personality for AfterBuzzTv for the WWE, and I'd like to pursue a career in event announcing like some Bruce Buffer type stuff when I get old. But I'll stick with music and mentoring for now.
Dubcnn.com: Thus far, what has been your greatest career moment?
I think that's still soon to come because nothing's jumped out to me yet. I've worked with a couple of artists that I look up to, but that defining moment hasn't occurred for me.
Dubcnn.com: Looking ahead, say five or even ten years from now, where do you see yourself?
I see myself doing what I'm doing now, but on a global level.
Dubcnn.com: What are some of the spots our readers can check your music and videos?
Everything is "/Mr2theP" on the social media networks like Facebook, YouTube, ReverbNation, SoundCloud, and MySpace. Look me up!
Check out some Mr2theP videos including; XXL and Original I Am.