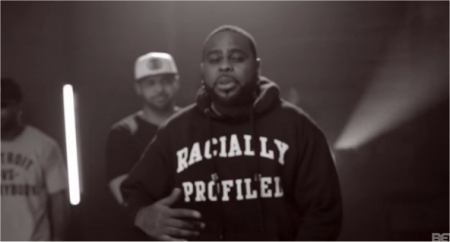 This year's Hip Hop Awards aired yesterday October 16, hosted by Snoop Dogg, and featuring some classic cyphers!
Earlier today we confirmed the full winners list, including Kendrick taking awards for "MVP of the Year," "Lyricist of the Year" and  "Album of the Year."
As they did last year BET once again brought together the toast of the Hip-Hop community for a series of Cyphers.
Crooked I, Joe Budden, Royce Da 5'9 and Joell Ortiz  aka Slaughterhouse dropped a cypher on the show – you can watch the video and download the track below!
Slaughterhouse – BET Hip Hop Awards Cypher 2013 (Video)
Slaughterhouse – BET Hip Hop Awards Cypher 2013 (Audio)

[raw]
[/raw]
Crooked I spoke to HHDX about the Cypher;
"It was a real dope atmosphere. DJ Premier was back there spinning. It felt like real Hip Hop was in the building from the start. Of course, we went in and did our thing. My only thing is BET sets us a certain amount of bars that we can spit. Well, they gave us a certain amount of bars. I don't know about everybody else. I was just thinking, 'I wanna spit more bars.' A cypher shouldn't have no limit on the bars. You should just go. They sent an e-mail out that they wanted everybody to spit 16 [bars]," Crooked I continued. "Slaughterhouse, we're on some rebel shit from the gate, so I think we probably all did 24s. But, I was like, 'If I could give these niggas a cold 50 [bars] right now, I'll shut BET down forever.' I would have put an 'Out of Order' sign on BET. I think that's what niggas wanna see. In the classic cypher that we did with Eminem [in 2011], I know Em did 40 plus [bars]. He absolutely murdered it. Then again, that's Eminem. He can do whatever the fuck he wants to do."