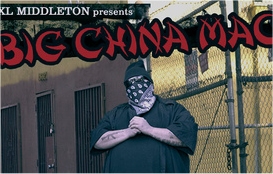 The homie XL Middleton announced last month he was re-releasing his  "The Hedonistic Album" as a Deluxe Edition CD + free digital download with bonus tracks!
If you thought that was it for new music from XL until 2014 – when he's set to release a brand new LP – then you were wrong!
If you've ever heard the term "period piece" used in the context of a movie synopsis, then you will likely find it easy to understand the concept behind a project soon to be released by Los Angeles based producer/composer/recording artist XL Middleton, under the alias "Big China Mack."
XL spent his youth being inspired by the West Coast G-Funk sound, crafting his own music with heavy handclaps, synth bass lines, and warm chord progressions that characterized the style – yet never delved into the misogynistic, crime-laden subject matter it became notorious for.
Now, twenty years after G-Funk's prominence, XL is about to pay homage to the style by taking on a role and playing it in much the same way an actor would a starring feature. He is creating his very own 1990's west coast hip hop album, packed with street-savvy tales and exaggerated cadence that many of its most legendary artists once delivered. The final result pays tribute not only to G-Funk, but to the sample-heavy sound of early 1990's west coast rap, pre G-funk, pioneered by artists like Compton's Most Wanted, NWA, and Ant Banks.
The Big China Mack is littered with tracks that sound like they could have been released anywhere between 1991 and 1995 – and – abiding by logic that many would consider a violation of hip hop's complex system of rules, he raps on this project about a life he never lived; a "gangsta" lifestyle. He does it not to convince you that he is truly a veteran of the streets, but to pay tribute to a style of music he fell in love with as a child. XL is not trying to make you believe that Big China Mack is akin to his real life any more than Joe Pesci tried to make you believe the character of Nicky Santoro is akin to his.
Love the idea? Well wait til you hear his ultimate nod to the time he's focusing the album on – the project will be released on cassette tape, the popular audio format which had been largely replaced by the compact disc by the end of the 90's (each cassette tape will also come with a free download so listeners can easily add the music to their phones and MP3 players too).
The release will drop on December 3rd, 2013 and DubCNN will be bringing you tracks over the coming weeks – until then check out the Audio Sampler below!
Big China Mack – Audio Sampler