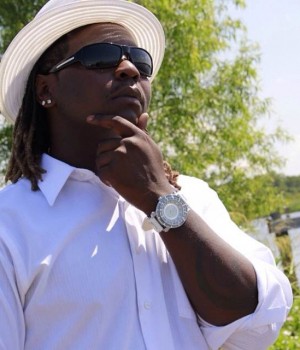 Snoopy So Fly, C.E.O of New South Records, is more than your average artist; he is also a producer, a screen writer and an all-around entertainment guru. New South Records was initially a group; however he is the only one remaining from the original group. He has since formed a new team, and is working on different areas of entertainment. This talented artist has worked with many established artists, and currently working on projects with his groups of diverse entertainers
With various targeted areas in mind, combined with a partnership with L.A.-based LRT Entertainment, New South Records and Snoopy So Fly are looking forward to a promising future in the music industry. His new sound and catchy hooks will take everyone by surprise.
Dubcnn caught up with Snoopy So Fly to find out a little bit more on who Snoopy So Fly is and what New South Records is all about, discuss the new single "Str8 Like Dat", and to discuss the various other projects and tours Snoopy So Fly is gearing up for and working on.
…………………………………………………………………………………
Interview conducted in October 2014.
Questions Asked By: Chad Kiser
…………………………………………………………………………………
DubCNN: First things first, tell us a little about who Snoopy SoFly is?
Snoopy SoFly is the next hottest artist to come out of New Orleans since Lil' Wayne; a grinder, a worker, a father, a son, a boss! Snoopy SoFly motivates those who are not motivated; he brings hope to the city with the help of his team NewSouth Records! With many years of experience in the entertainment world it's finally his time to show the world what New Orleans is about once again!
DubCNN: You've recently released the "Str8 Like Dat" record. Tell us a little bit about the record and what your upcoming plans are as far as the album goes.
We're currently in works promoting the new, smashing single "Str8 Like Dat" off the album "The Come Back Is Greater Than The Down Fall"! With the vision that this new sound, new feel, and new vibe opens up the doors that lead down the right path. And as for the album, it's being polished and shined up for its debut release. But you know, until an actual date is set the album always gets new songs added and some songs removed, but its ready when ever my fans are ready.
DubCNN: You've performed at various venues including the House of Blues and Club 554. What has those experiences been like for an independent artist to be able to do?
It's a great experience not only does it help build confidence it helps build stage presence character and a local fan base, and an excellent way to practice for much bigger crowds if you get to that level. And at the end of the day isn't that the reason we as artists write our music, it's so that we can show you what we created.
DubCNN: If you could play any venue in the world, which one would you choose and why?
The Mercedes Benz Super Dome! Why? Because it's the biggest venue in my city and what would be better then to sell out the biggest venue in one of the best cities in the world New Orleans.
DubCNN: Who has been your greatest inspiration musically?
I would have to say Sean Carter (Jay Z) and Curtis Jackson (50 Cent). These two guys are the definition of all-around artists, entrepreneurs, and business men. After grooving out to their music for years it was only right to know how they accomplished what they have and learn what I could from the music industry leading fellow members. It helped map out my plan to accomplish what I have today.
DubCNN: Being from New Orleans, Louisiana tell me about New South Records LLC linking up with L.A.-based LRT Distribution?
New South Records LLC has gained many contacts over the years and through building a brand and networking I was able to then get connected with LRT. Lisa, Audra, and I talked and put together a plan to help New South Records LLC get to the next level. The deal was made and we got to work.
DubCNN: What can we expect from Snoopy SoFly?
You should expect the impossible to happen anytime you hear about me. I'm planning to knock down walls, cross barriers and set trends!
DubCNN: What other projects are you involved in?
Coming up we have radio interviews, shows and meet and greets in California, showcase concerts in Louisiana, the Stop the Violence Tour coming up, preparing different television shows, short films and music videos. Stick with Snoopy SoFly and take the ride; it's one to be remembered!
DubCNN: What do you want people to get from your music?
To learn to love, respect and care for one another. I believe it's the only way to live, so I preach about responsibility and handling your business because no one else is trying to teach our younger generation, but they quick to help destroy them. It's time for a change.
DubCNN: What are some of the spots our readers can check your music and videos?
You can check us out and keep up with New South and Snoopy SoFly at newsouthrecordsllc.com, youtube.com/Snoopy SoFly, itunes.com/Snoopy SoFly, www.soundcloud.com/Snoopy SoFly. Snoopy SoFly @ Facebook and Twitter, too!
DubCNN: Is there anything I left out that you'd like to mention and point out at this given time?
Yes, NewSouth Records is planning to become an elite independent label that allows the many flavors of New Orleans to be shown. For many years our people have been forced to leave New Orleans in search of labels to help get them to the next level! Well, NewSouth is here to change that no more leaving NewSouth Records will be releasing all types of genres of music, artists, events and anything needed to put New Orleans back on the map like it should be!