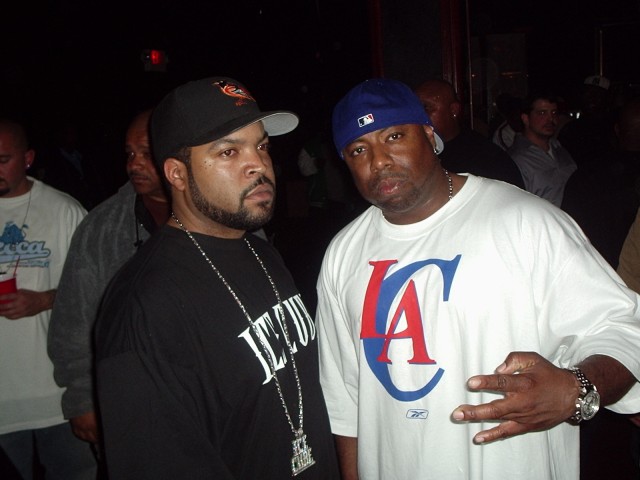 DubCNN was among the worlds press on February 28th 2006 who were invited to a private album listening party for Ice Cube's latest solo release "Laugh Now, Cry Later."
The party was incredible, the venue, the support shown by artists and press alike; but most importantly the music was the focal point and it did not disappoint.
The event was hosted by the man himself, Ice Cube. He took time out to speak with DubCNN about the new album, we also spoke with DJ Strong, Murs, Terry Kennedy and of course W.C.
We have pictures, the report and all the video from the event below. Thanks to our Event Reporters; Justin, SGV & our latest staff member Kevin for all their work.
Event Report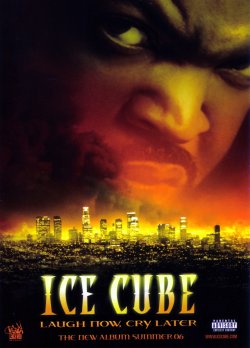 Dubcnn was invited to a private listening session held by Ice Cube in anticipation for his new album "Laugh Now, Cry Later" scheduled to be released on June 6, 2006. Our staff members SGV aka Elliot, Justin and our latest addition Kevin hit up the event, held at the S.I.R. studios. Ice Cube presented his new album, and among the guests were WC, Nate Dogg, Murs, DJ Strong & DJ Warrior and many more.
Ice Cube makes this highly anticipated and welcome return to the mic with the his seventh solo LP, titled "Laugh Now, Cry Later." Following the release of his greatest hits collection in 2001, the West Coast's Greatest Rap Lyricist is back again, this time choosing the independent route, and releasing "Laugh Now Cry Later" through his label, Lench Mob Records. With production credits from top level producers like Scott Storch, Swizz Beatz, Budda and Lil' Jon, and featuring the likes of WC, Snoop Dogg and Kokane, Ice Cube looks to settle back into his position as Rap's Heavy Weight Champion, showcasing his creative and lyrical genius throughout 18 solid tracks. We heard the new material and let us assure you that this album caters for his core fan base as well as the mainstream listening audience; could this be the biggest selling and hardest hitting independent release of the year – we think so. Ice Cube has been away from the recording booth for too long for many to bear yet he, like a vintage wine, has only improved with the length of his stay away.
With tracks such as the single; "Why We Thugs" which we recently premiered; he showcases his talents and flow over a beat which is sure to get the attention of the mainstream audience once again. The hard edged "Child Support" sees Cube cutting into what Hip-Hop has become today and explaining why he feels it has lost its cutting edge; "Im the father of this gangsta sh-t, never thought id have a bunch of bastard kids"
The album continues in similar form, Ice Cube mixes the politics and the fun over hard edged production. It is fair to say of much of the production that it would not hit as hard without Ice Cube spitting over them; he often makes tracks on the album shine more than they otherwise would. A beat is only a small part of a completed track and what is clear on this album is that Ice Cube has tied together the beats and the lyrics to create album worthy material – not filler. That is what is often missing in Hip-Hop – all credit to Cube.
We have some video footage of the event as well as a few pictures available. The tracklist for "Laugh Now, Cry Later" is also below, with some of the audio we have premiered from the release over recent months. Click on the highlighted links to listen to the preview songs. We'd like to thank Elliot, Justin and Kevin for their work, as always, dubcnn on top of the latest events!
Album Tracklist
01) Definition of a West Coast G (Intro) By: Sketch
02) Why We Thugs (Produced By: Scott Storch)
03) Smoke Some Weed (Produced By: Budda)
04) Dimes & Nicks (A Call from Mike Epps)
05) 
 (Produced By: Teak & Dre)
06) 2 Deacdes Ago (insert) By: Sketch
07) Doin What It 'Pose 2 Do (Produced By: Emile)
08) Laugh Now, Cry Later (Produced By: Sean C)
09) Stop Snitchin (Produced By: Swizz Beatz)
10) Go to Church (Feat. Snoop Dogg and Lil Jon) (Produced By: Lil Jon)
11) The Nigga Trapp (Produced By: DJ Green Lantern)
12) A History of Violence
13) Growing Up (Produced By: Laylaw & D-mac)
14) Click Clack – Get Back! (Produced By: Emile)
15) The Game Lord (Produced By: Teak & Dre)
16) 
 (Feat. WC) (Produced By: Budda)
17) Steal The Show (Produced By: Scott Storch)
18) 
 (Feat. Snoop Dogg) (Produced By: Lil Jon)
19) Spittin Pollaseeds (Feat. WC & Kokane) (Produced By: Laylaw & D-Mac)
20) Holla at Cha Boy (Produced By: Lil Jon)
Ice Cube – Laugh Now, Cry Later (Listening Party) February 2006  (Video)
Ice Cube – Listening Party: Video Footage (Features Ice Cube Interview, Nate Dogg, WC & Murs) Download
Dubcnn Video Shoutouts: DJ Strong | WC | Murs | Terry Kennedy
Images (Click to Enlarge)