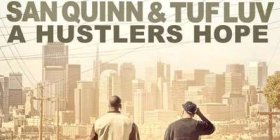 Dubcnn sat down with San Francisco legend San Quinn and young Oakland spitter Tuf Luv to speak about their new collaborative effort "A Hustler's Hope", which is available now in stores and on all digital retailers.
They tell us how the met, why they decided to record an entire project together and what separates this album from a lot of Bay Area records coming out. They call us about the single "Drunk In San Francisco" with B-Legit and the story behind it, as well as some other highlights off the album.
Enjoy the interview and make sure to check out the "A Hustler's Hope" album!
Read on and enjoy. As always feel free to hit up
nima@dubcnn.com with questions or comments.

………………………………………………………………………………
Interview was done in November 2011
Questions Asked
By:
Nima Etminan
………………………………………………………………………………
Dubcnn Exclusive – San Quinn & Tuf Luv
By: Nima Etminan
Related Media:
San Quinn & Tuf Luv – Drunk In San Francisco (ft. B-Legit) (Audio)
San Quinn & Tuf Luv – Like Me (Video)
San Quinn & Tuf Luv – A Hustler's Hope (iTunes)
………………………………………………………………………………
Dubcnn: Quinn, you've got someone with you today. Go 'head and introduce yourselves real quick.
San Quinn: It's the mighty San Quinn, representing the almighty San Francisco area. I've got my main man Tuf Luv. San Quinn & Tuf Luv, we've got the brand new album "Hustler's Hope"!
Dubcnn: Quinn, you've been in the game for a long time. Tuf, you're a fresh face to most people. Let us know where you're from, how you come up and how you and Quinn decided to make a record together.
Tuf Luv: I'm from Oakland. Me and Quinn met through my boy Paolo, Done Deal 772, the new label. "The Hustler's Hope" is the name of our new album and honestly, it's one of the best albums to come out of the Bay. You heard about it here first at dubcnn.
San Quinn: Ever! One of the best albums to come out of the Bay, ever.
Tuf Luv: I've been a big fan of Quinn's forever. You have to understand that being a lyrical artist, it's not too many of us left out here. Quinn is still that dude, so for me to do my first album with Quinn… Not too many people can say that they made their first album with San Quinn. So I had to come with it on this shit. We put out a beautiful body of work.
Dubcnn: What about you, Quinn? I know you've collaborated with a lot of different artists throughout your career. What made you want to do a record with Tuf?
San Quinn: We started the label back up after Done Deal kinda went defunct for a minute after everybody parted ways. My partner Paolo and my little partner Hollywood and a few more people came together and said we have to start the label back up and get Done Deal back going again.
So I hooked up with Tuf, because Tuf is one of the best people rapping, period. In the world. I can pretty much put money on that. When I heard dude, it was phenomenal. A couple times, he fed me on the album. I've done a lot of collaborations with people, sometimes just for the money, but this is something dead serious. This is what rap used to me, it's bigger than just the Bay Area. It's vivid, you can see the shit when he raps. It's me, plus anybody on steroids.
It's the best collaboration I've done and people might have their opinion, but as far as how he comes off, can't nobody fucked with dude as far as people that I've dealt with. And I've got a lot of respect for a lot of MC's out here, but he exceeds a vast majority of them. We're not talking about nothing fake, this ain't no fake as street shit. It's just rap music, we're talking about surviving. Every song on the album is vivid, it's a great record. Done Deal is back, but with the 772 this time, you dig?
Dubcnn: Let's talk about a couple of the records on there. You guys shot a video to the song "Like Me" and I heard you guys are planning on shooting a video to "Drunk In San Francisco"?
San Quinn: We're really planning on making a movie to "Hustler's Hope", like a small musical.
Dubcnn: That's why the cover looks like a movie poster?
Tuf Luv: Exactly, it looks like a straight movie poster.
San Quinn: With the current state of Hip-Hop, I was pretty much ready to more or less back up off of it, because it seemed like the fans they wanted to accept fake shit. I ain't with nothing fake, I ain't with nothing phony. And that's where the game was going! But Tuf kind of woke my game back up all the way. So we're trying to make a movie to it. But you will see videos to "Drunk In San Francisco", "Rap Superstar", "Trying To Get Paid", "Passion". The album is a movie. If you sit back, even if you're not a director or don't have a vivid mind, you can put this record in and see everything that we're saying. It's not a frivolous record on there. Every song has a concept and a meaning and a truth behind it.
Dubcnn: The song "Drunk In San Francisco" has been buzzing for a while now. It features B-Legit, what was the process behind the making of that song?
Tuf Luv: That was all Dex Beats right there, he produced that track. Paolo heard it and he immediately heard me, Quinn and B-Legit on it. That's how the record came about and it ended up being a classic record.
San Quinn: Big shootout to KMEL for spinning it for the 13 weeks that they spent it. Shouts out to DJ Mere for spinning it and Big Von had it on his show on the Home Turf thing. Everybody in the Bay Area comes to San Francisco to get drunk, you dig? Everybody parties here, so it was a easy song to do. And with B-La coming in… he's like the king of the club! Big shouts to B-La, the big homie. Dex Beats came with it and we knocked it out!
Dubcnn: Tuf, you made your way into the game with this album, what are your plans after this?
Tuf Luv: We're already talking about working on another Hustler's Hope album. I have a new mixtape coming out called "Suicide Note", and I have a video coming out for that called "Welcome To The Mind" directed by Anthony Jacobs. Look out for that shit.
Dubcnn: Quinn, what about you?
San Quinn: Shit, it's Hustler's Hope! I'll talk about everything else later. San Quinn, Tuf Luv, "Hustler's Hope", Done Deal 772. iTunes, Amazon, all over.
Dubcnn: Aight let us know how people can get at you online.
Tuf Luv: Hit me on Twitter @TufLuv772, I'm on there all day.
San Quinn: Shit, you can hit me at 4154908254 for verses and for bookings. I'll holler at you on Facebook and I might have somebody talking to you on Twitter. But call my muthafuckin' phone if you wanna holler! And if you wanna fight, you can meet me on Divisadero and Grove at the Barbecue Pit. I'll be there.