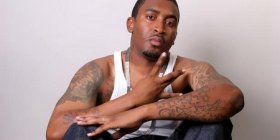 Young Keno was an ever-present in the first half of 2011 on Dubcnn, from his April Appearance on the All NEW Dubcnn Radio Show, to his Real N!@@a Society Remix music video release featuring Joe Moses, I-20, Roccett, Mr. Smith & Marleik and directed by Dubcnn's own Jose HG.
Then in mid 2011 he dropped the single No Shirts and Tattoos with Jayare of Cali Swag District and C.T.E.'s own 211 and since has been working on his upcoming release "The Classroom."
Today we have a track that has just been released from that project entitled "Bitch I'm a Star" featuring and produced by Buccweet – check it below
Young Keno – Bitch I'm a Star (Feat. Buccweet) (Audio)
Stay tuned to Dubcnn for all the latest on Young Keno and the "The Classroom" project and be sure to follow Young Keno on Twitter by clicking here.