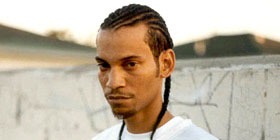 Knoc-Turn'Al had a busy end to 2011, in the last six months he released Knocメs Ville via Treacherous Records/Hoopla Media Group/LRT which you can cop on iTunes, chopped it up with Dubcnn in this exclusive interview, appeared on a single from Damizza's MCSB project called U Can't See Me and in September dropped the 2Pac Tribute record All In.
The last time we heard off Knoc was in November when he dropped off Don't Know By Now featuring Noah Jones, Willy Northpole & I-20 over a J-Beam production which was released to keep the fans happy as he puts the finishing touches on his long awaited, long overdue "The Book of Knoc" LP.
Today we are back with another record to bridge the gap while we wait on the album called "3 In The Mornin" featuring his crew The MathMadix. Members Ripacut can be heard on the second verse with Knawledg handling the third. The track was also produced by MathMadix affiliate, Deztined.
Knoc-Turn'Al – 3 In The Mornin (Feat. MathMadix) (Audio)
Enjoy and lookout for more news and music from Knoc-Turn'Al and "The Book of Knoc" LP over the coming weeks.