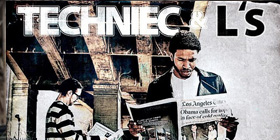 Long Beach representer Techniec and L's Melodic of Glory For The People are back again today with the release of their hugely anticipated new video I Know They Know.
Earlier this week they dropped off the Behind The Scenes footage from I Know They Know just days after releasing the FREE DOWNLOAD of their The Blacklist project which was originally released via our Digital Distribution Network for paid download early in 2011.
The release featuring Bad Azz, G Malone, Bo Rocc, Pac ENZO Ten, Marc Spitz – put out under the BlocRebel imprint in conjunction with Dubcnn.com – was a huge success and spwaned a music video for the title track The Blacklist as well as the single Cold As Ice-T and today they present the I Know They Know video in full which is directed by Fernando Chavez and includes footage from the historic occupy LA demonstration the morning before the eviction.
Techniec & L's Melodic – I Know They Know (Video)
Remember that the dup are also working with DJ-Age on a Techniec mixtape due out in the coming weeks and if you missed it earlier in the week check out the first single On My Way.
Enjoy the single and video and if you haven't yet then download The Blacklist today. Show your support by checking out the official homepages of L's and Techniec and Like them on Facebook.