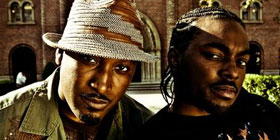 As we reported on New Years Eve Long Beach duo FrattHouse, consisting of G.B. (the son of RBX) and E-Money (cousin of Snoop Dogg), were not only getting ready to release a new project together called "Leftovers" – a tribute album to Daz and Kurupt featuring the singles It Don't Stop and Things I Know – but also that they were kicking off the New Year with the FHU (Fratthouse University) movie project.
The project chronicles two knucklehead rappers, G.B. & E-Money aka The FrattHouse enrolling in college to promote their upcoming record and bang the hottest chicks they can find!
We already brought you the FHU Webisode Series Teaser as well as FHU Webisodes Ep 1 Trailer: E-Money & GB Enroll and today we are back with the double bill of Episodes 2 and 3, "Anatomy 101" and "Ass, Gas or Class?" – check them below!
GB & EMoney: FHU Webisodes Ep 2: Anatomy 101
GB & EMoney: FHU Webisodes Ep 3: Ass, Gas or Class?
Look out for the next episode of the hottest webisode to hit 2012, The FHU Webisode in association with Daz Dillinger, G-Flow and Relic Entertainment, right here on Dubcnn!
For those who need to get up on G.B. & E-Money make sure you check out tracks including Am So Fly and Get That Paper both featuring Daz Dillinger as well as the "Jukebox" project for Free Download and in Streaming Audio Format.
For more hit up the duo on Twitter